Another Muslim terrorist attack, this time an attempted stabbing attack on an IDF soldier guarding a bus stop in Samaria.
Recently released video of last weeks stabbing attack of IDF soldier
Today's Attack
The Muslim terrorist, Eliyas Salas Yasin from the town of Bidiya, attempted to stab a soldier with his knife and was shot by an IDF soldier guarding nearby. No Israeli was injured in the attack. The terrorist later died of his wounds in the hospital.
Eyewitnesses reported the terrorist attacked IDF soldiers and tried to stab them with a knife. Nearby soldiers opened fire at him and liquidated him.
Samaria Regional Council head Yossi Dagan said "the alertness of the soldiers and their striving for contact saved lives and prevented a terror attack. We strengthen the IDF soldiers. Settlement in Samaria will continue to grow and expand, and together we'll defeat terrorism and build the Land of Israel."
"The terrorist tried to stab soldiers, but thank heaven, there were no injuries [among the soldiers] and the terrorist has been neutralized."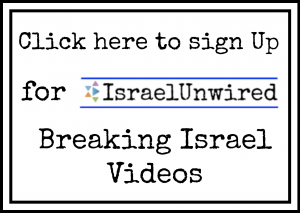 When the world reacts to Israel stopping terrorists from infiltrating Israel by asking :'how many Israelis were killed?' it's clear they are not upset by the number of Arab terrorists killed but that not enough Jews were! Nothing changed in 80 years, except Israel! #NeverAgain pic.twitter.com/Th7VdU8pLM

— Ari Fuld (@arifuld) May 23, 2018
Growing Number of Terror Attacks the Past few Months
This uptick in attacks might be due to an uptick in incitement by the Palestinian Authority.
Attention‼️

Palestinian President Mahmoud Abbas repeated an old libel, on Saturday, saying:

"Israel plans to establish Jewish prayer inside the Aqsa mosque, in the same fashion done in Hebron"

– All pro-Hamas twitter accounts are calling for violence citing Abbas' remarks. pic.twitter.com/oZK2bupkRE

— Mark Halawa – مارك حلاوه (@HalawaMark) September 16, 2018
"In a speech before the PLO Executive Committee in Ramallah on September 15, Palestinian Authority (PA) President Mahmoud Abbas repeated the old libel that Israel was planning to establish special Jewish prayer zones inside the Al-Aqsa Mosque. Abbas claimed that Israel was seeking to copy the example of the Tomb of the Patriarchs in Hebron, where Jews and Muslims pray in different sections.
Abbas did not say what his lie was based on. He also did [not] provide any evidence of Israel's ostensible plot against the Al-Aqsa Mosque . . .
Hours after reports were published of Abbas's allegation, a 17-year-old Palestinian from the town of Yatta in the southern West Bank fatally stabbed Ari Fuld, a 45-year-old Israeli-American citizen and father of four, in a shopping center in Gush Etzion, south of Bethlehem.
According to Palestinian terrorist groups, the terrorist, Khalil Jabarin, decided to murder a Jew in response to Israeli "crimes" against the Al-Aqsa Mosque in particular and Islamic holy sites in general.
In other words, the terrorist was influenced by Abbas's incitement, and this is why he decided to set out on his deadly mission. There is no doubt that the terrorist saw the reports quoting Abbas's claim that Israel was planning to allow Jews to pray inside the Al-Aqsa Mosque."
Muslim Terrorist Murders Two Jewish Coworkers at Israeli Industrial Park Exemplifying Peace & Coexistence
Palestinian Authority Pays Terrorist $3,300 Advance Payment for Murdering Ari Fuld z"l
Terrorist Shot & Killed after Attempting to Stab IDF Soldier in Hebron
Stabbing Attempt in Old City of Jerusalem. Police Kill the Terrorist