Two Israeli Jews were murdered this morning, this time at the Samarian Hills Barkan Industrial area. The Barkan Industrial area is an oasis of peace and coexistence between Jews and Arabs in Judea & Samaria. After shooting three Jewish co-workers, the terrorist ran away.  It was all caught in this video. The IDF is now on a manhunt to find the terrorist.
Site of Terror Attack – Office
Terror Attack
The terrorist was a 23 year old worker at one of the factories in the Barkan Industrial park. He worked for seven months and his work permit was supposed to expire next month.
He entered the office of one of the factories he worked in with a homemade rifle.  Then he put both a man and woman in handcuffs and shot them both in execution style. Both died of their wounds. The woman was Kim Levengrond-Yehezkel, a 28 year old mother of a 2 year old, from Rosh Ha'ayin. The man was Ziv Hajbi, a 35 year old father of three from Rishon Letzion. He wounded another 54 year old woman, who managed to hide under a desk and survive the attack.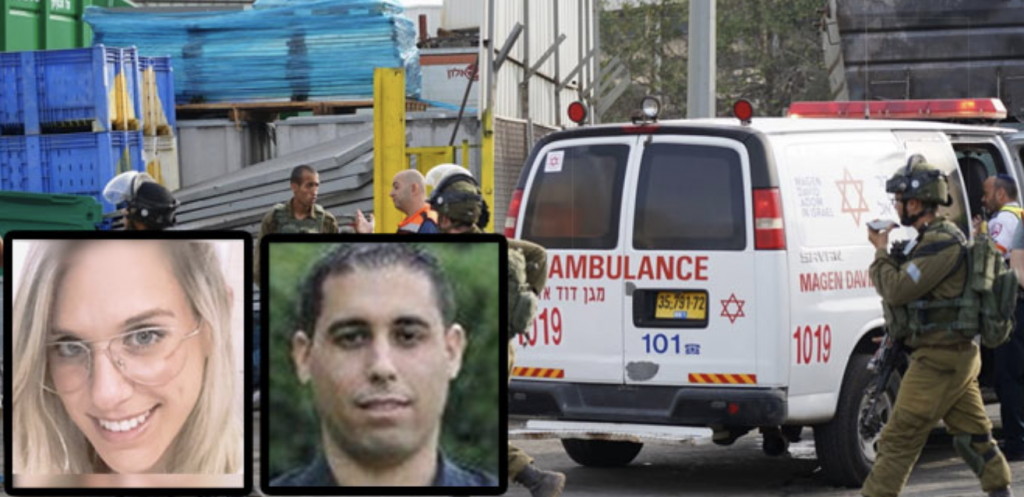 The 54-year-old told the paramedics she heard a loud noise and went to check its source. After seeing her, the terrorist shot at her and she hid under a table.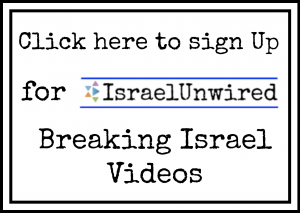 Barkan Industrial Park
Some 5,000 Palestinians are employed in Israeli-owned businesses in the Barkan industrial area. This industrial park is a symbol of peace and coexistence between Jews and Arabs in Judea and Samaria.
Yossi Dagan is head of the Samaria/Shomron Regional Council where the Barkan Industrial park is located. He called this "a grave security incident." While Jewish employees want to trust and give economic opportunities to our Arab neighbors, there is mortal risk involved.  We would like to live peacefully in coexistence, but terror attacks like this destroy the trust level necessary to be able to coexist.
A Bridge Destroyed
"This is a serious incident in an area which symbolizes a bridge of coexistence in the West Bank. More than 8,000 employees work in the Barkan industrial area.  Half of them are Jewish and half are residents of the Palestinian Authority," Dagan explained.
"I see here Arabs and Jews who sit together and cry," he exclaimed.
"I want to stress one thing—this incident is very grave, but we'll never break. The Zionist enterprise will continue operating in the West Bank as well as all over Israel with vigor," he asserted.
Ari Fuld z"l and I visited the Barkan Industrial Area Just 5 Months Ago
I posted a video Ari made at one of the factories on that trip and this is the text that I added:
Horrible!!! Two More innocent Jews just murdered this morning by a Muslim terrorist at the Israeli industrial area where Arabs from Samaria work for Israeli companies earning Israeli salaries. As Ari says in the video, "this is what true peace looks like", but not when they murder us!
Israel is NOT an "apartheid" state, it is a country that wants to live in peace. It is those who create a fake identity called "palestinians", stealing Jewish history as their own, denying the Jewish people's rights to our land, and then murdering us based on a false claim that we took their land.  It is those liars and terrorists who are the obstacle to peace, NOT Israel!!!
Happier Times with Ari Fuld z"l on that Samaria Trip
Enjoying Jewish wine from Jewish vineyards in the ancient hills of Samaria, together with my friend Ari Fuld z"l in the background waving :). Happier times together while we did Israel advocacy together with all these other strong Israel activist voices.
Joseph's tomb is in Shechem
Overlooking the ancient Jewish city of Shechem, aka Nablus, where Jews are forbidden to live and visit today.  the only way to visit is in the middle of the night with heavy IDF protection.  Ari Fuld is in the video at around the 8:00 mark with his own live facebook video.