On Sunday, a Muslim terrorist from the Yatta village near Hevron, murdered an innocent Jewish father of four, Ari Fuld, who was shopping at the Gush Etzion shopping center. The Palestinian Authority just gave the murderer a $3,300 advanced payment.  That goes towards the monthly stipend he will receive while he is in Israeli jail.
This is why we applaud the Trump administration for withholding funds from the Palestinian Authority and UNRWA.  Both of these organizations incite and incentivize the "palestinian" Arabs to murder Jews. That is a sign that they are not interested in peace, but in murdering Jews.
Who's the victim?
Palestinian Authority media was quick to paint the terrorist as a young victim. One official newspaper headline had an absurd headline. "The shooting and wounding of the boy Khalil Jabarin, and his arrest claiming that he killed a settler next to 'Etzion," according to Palestinian Media Watch.
Does this look like the terrorist was a victim? Here you see the terrorist running after a woman to stab her, while an injured and bleeding Ari Fuld heroically runs after him and stops his stabbing rampage. This is the footage after the terrorist successfully stabbed Fuld in the back and then ran away to stab others.
The People of Israel Enter the Holiest Day of the Year Mourning A "Lion" of a Man
As Jews enter the holiest day of the Jewish calendar, Yom Kippur, all of Israel mourned the death of Ari Fuld. The following is a picture of a national soccer league game. The huge sign says "Ari Fuld – hero of Israel". Thousands have visited the Fuld family since Sunday.  Prime Minister Benjamin Netanyahu, Defense Minister Avigdor Lieberman and countless other politicians from right and left visited.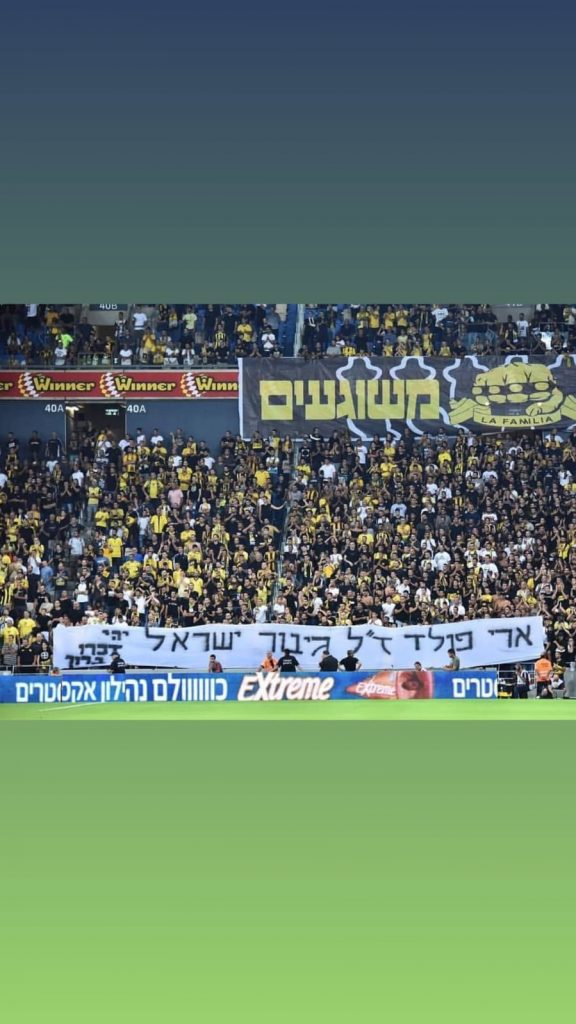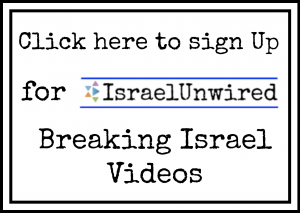 Hillel Fuld Speaking About his Brother Ari
During a ceremony that honored the fallen soldiers of the Paratroopers Brigade, IDF chief commends Fuld's efforts to prevent harm to others even after he was wounded. 'He prevented a much bigger attack.'
During the ceremony, Eisenkot commended Fuld's efforts to neutralize the terrorist and prevent harm to others even after he was wounded.
"The attack in Gush Etzion took the life of Ari Fuld, a reserve paratrooper. He was a devoted warrior until his very last moment. He tried to thwart the terrorist using all of his remaining strength, thereby preventing a much bigger attack," Eisenkot said.
Words of Inspiration about Ari Fuld Before the Yom Kippur Fast