After the terrorist stabbing attack a few days ago that murdered Ari Fuld z"l, another stabbing attempt was made outside the Old City of Jerusalem. This one took place on Yom Kippur, the Day of Atonement, the holiest day of the Jewish calendar. Thankfully this one was stopped before anyone was hurt.
Stabbing Stopped
The Israeli police stopped a Muslim terrorist running around on the street with a screwdriver. He was cut down before he could stab innocent Jews on the street.
They stopped him as he lunged at a potential victim to stab him. They shot the terrorist and killed him, saving the life of the potential victim.
The police have identified the terrorist as a 26-year-old resident of the town of Qalandiya between Jerusalem and Ramallah.
Another Stabbing
The State of Israel is still in mourning over the stabbing attack on Sunday that killed a father of four, Ari Fuld, in Gush Etzion.
Ari Fuld is a close personal friend of the writer. Not only are friends, family and community mourning Ari's death, but the Jewish people around the world are all mourning.
Ari was an active online advocate for Israel as well as a proud defender of Israel in his military duty.
Fuld's Heroics
It was quite a shock that Fuld was killed, only because the 17-year-old Muslim terrorist stabbed him in the back, literally.  Still, Fuld heroically managed to turn around, hit the terrorist, chase him and shoot him.  This stopped the terrorist who was on a stabbing rampage.
Fuld is now looked upon as a hero for the way he reacted in the attack.  In addition, now there is widespread public recognition that he lived a life of heroism throughout his life as well.
Rewarding Terror
Fuld's murderer has already received a $3,300 advanced payment towards the reward that the Palestinian Authority pays each terrorist that murders Jews.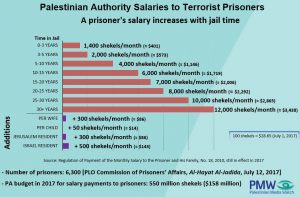 This should be a sign to the world that they are not interested in peace, but rather in killing Jews. Sadly, the world prefers to ignore this. Hence there is no peace, and there never will be peace with a culture that incites and rewards murder.