Right before the start of the Sabbath in Jerusalem, an Israeli Arab tried stabbing an Israeli police officer in the Old City of Jerusalem.
Stabbing Attempt
After leaving the Islamic Friday prayers at the Temple Mount compound, the terrorists attempted to stab an Israeli policeman.
The terrorist has been identified as Ahmed Muhammad Mahameed. He was an Israeli Arab from the town of Umm al-Fahm, in northern Israel.
As one can clearly see in the video, Mahameed was walking normally and swiftly turns towards the policeman and tries to stab him.
Thankfully, the police were quick to stop him. They killed the terrorist before he was able to injure or kill one of the policemen.
Family Reaction
Mahameed's family is accusing the Israeli Police of murder. They say that Mahameed was mentally ill and that the Israeli police were quick on the trigger.
When someone is stabbing you with a knife, you have one responsibility. Your duty is to protect yourself and all those around you by stopping that stabber. If you have a gun, you shoot to kill him before he kills you.
Mahameed's family has it all wrong. It makes no difference if he has a history of mental illness or not. At that moment he was attempting to be a murderer. The police not only had the right, but they had the duty to shoot and kill him.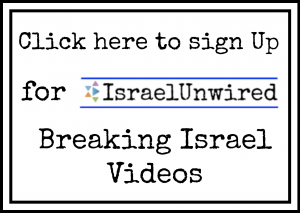 Muslim Incitement to Murder Jews
Many Muslims are incited to murder Jews. Unfortunately, many times it is the Imams, the Muslim religious leaders who do the incitement.
Back in 2012 Israeli Prime Minister Netanyahu warned the world about the horrible incitement by the head Muslim religious leader of Jerusalem:
"Today, most governments around the world are silent in the face of calls by the Palestinian mufti to kill Jews simply because they are Jews.
What is most chilling is the fact that there is here a legacy of hatred and annihilation because this mufti is following in the footsteps of that previous mufti. Haj Amin al-Husseini was one of the architects of the Final Solution. He traveled to Berlin. He lobbied and implored Hitler, as was stated by Adolf Eichmann's deputy at the Nuremberg trials, and this is documented in other sources, and persuaded him more than anyone else to carry out the Final Solution.
Not to allow the Jews to leave lest they come here but to annihilate them, to incinerate them. He established Balkan Muslim Waffen-SS units. He broadcast and preached the annihilation of Jews and, more than anyone else, poisoned Arab leaders against Zionism and against the Jewish people. And here is his successor, today, instead of calling for peace and reconciliation, calling for the annihilation of Jews simply because they are Jews.
I hear condemnations if there is a house in Gilo or a balcony in Ramot, I hear this from everyone. Where are condemnations of the mufti? Not the previous mufti but the current one?"