Two days ago a terrorist infiltrated the Jewish community of Tekoa to kill innocent Jews and yesterday one tried to stab an IDF soldier in Hebron. Here is the dead terrorist moments after IDF soldiers shot and killed him.
Stabbing Attempt
The IDF issued the following statement after the incident. "An initial investigation reveals the terrorist produced a knife and walked towards a group of soldiers at the Givat Avot checkpoint in Hebron. The soldiers opened fire at him."
None of the soldiers were injured in the attack. IDF officials say that the investigation is continuing.
Hebron Experienced with Terror
The Jewish city of Hebron is unfortunately very experienced with terror attacks. One of the most famous attacks was a sniper fire that killed a toddler girl named Shalhevet Pass. Regardless, the Jewish community there is growing. It is thanks to their presence living there, that Jews are able to visit the tombs of the patriarchs and matriarchs in Hebron. Their presence is critical for allowing the continued accessibility of this Jewish holy place. As opposed to Joseph's tomb in Nablus/Shchem, where Jews are not allowed to visit, except under heavy IDF guarding in the middle of the night when the Muslims are asleep. Why? Because no Jews live there.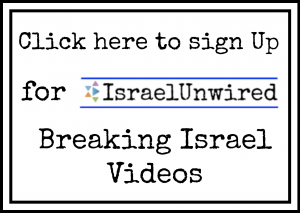 Anger
The Jewish residents of Hebron feel much frustration and anger with the periodic terror attacks.
In the following video, as the IDF soldiers were carrying the body of the dead terrorist away, one Jewish resident was screaming out "Whoever comes to kill soldiers should be thrown into the garbage. It is a pleasure to see. Dog, son of a dog."
Muslim and Arab media outlets are up in arms about this video. Too bad their silence at the numerous sermons in Mosques that incite Muslims to go out and murder Jews exposes their total hypocrisy.
Palestinian social media up in arms about Israeli yelling at the corpse of a Palestinian attacker who attempted to stab an #IDF soldier on Monday.

"Whoever comes to kill soldiers should be thrown into the garbage. It is a pleasure to see. Dog, son of a dog."#Israel #Westbank pic.twitter.com/WfI2xd25Ky

— Joe (@Jtruzmah) September 4, 2018
The FULL Truth about the Hebron "Occupation"
This is a MUST SEE video to understand the situation on the ground in Hebron.