Laura Loomer, the most banned woman on the internet for her conservative views, is now running for Congress in a Florida District.
Big Tech has censored Loomer on the internet by banning her on Facebook, Twitter, Instagram and other platforms, but they have failed to silence her. Now she is running for Congress.
While AOC, Omar, Tlaib and Sarsour are pushing a radical left, pro-shariah, Jew-hating, anti-Israel agenda in Congress, Loomer represents a no-holds-barred anti-Big-Tech-censorship, pro-America, anti-shariah, pro-Israel agenda.
The left has called Loomer "Far-right", however, Loomer is a Jewish conservative woman who wears a Star of David around her neck everyday. She is not far-right. That is a slur to deligitimize an opponent and silence them in the world of public opinion.
The Left has attacked her in this way because Loomer is the investigative journalist who was the first to call out the antisemitism of the women march leaders. She exposed the radical Islamic agenda of Ilhan and Tlaib during their election campaigns.
She is also the investigative journalist who exposed Ilhan Omar as committing immigration fraud by marrying her brother so he can receive US citizenship. Now the whole mass media is talking about that story. However, when Loomer broke the story two years ago Twitter banned her for publicizing that information.
Twitter will now be in an interesting situation. According to law, since Loomer is now running for public office, Twitter is forbidden from banning her from the platform. Will Twitter, Facebook and Instagram reinstate her accounts now that she is running for public office?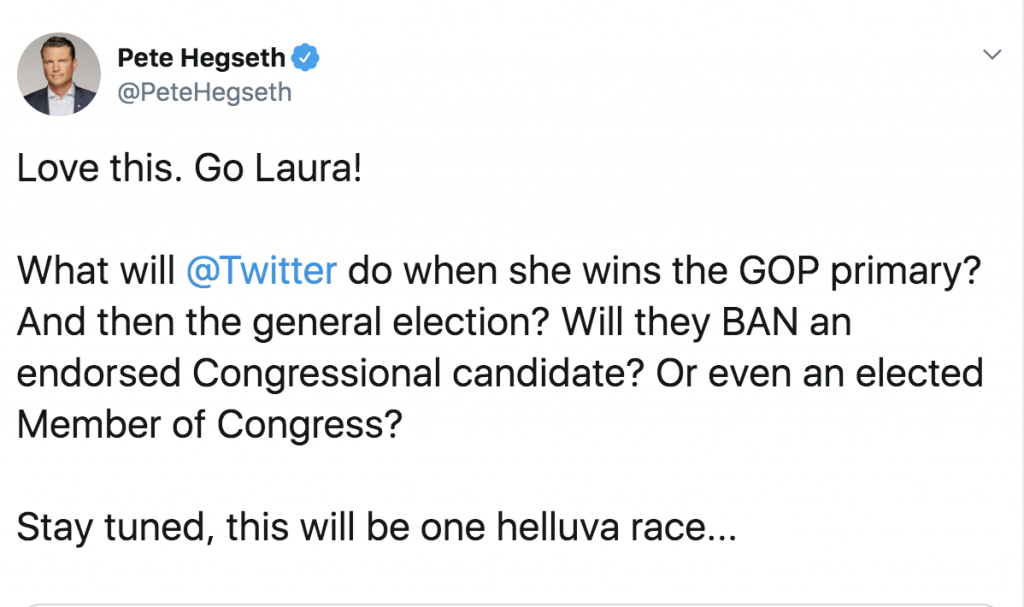 Loomer at Forefront of Fight Against Big Tech Censorship
In April, Loomer sued Twitter and CAIR for their role in deplatforming her. As reported by the Wall Street Journal, Loomer's ban came at the instigation of CAIR (Council on American Islamic Relations), a designated Islamic terrorist organization, and was carried out shortly after CAIR's meeting with Twitter and Facebook executives.
In the beginning of July Loomer filed a defamation lawsuit against Facebook. The complaint, filed in the U.S. District Court for the Southern District of Florida (Case No. 9:19-cv-80893), alleges that Facebook and its wholly-owned sister company Instagram, in banning Ms. Loomer from the social media sites, maliciously defamed her by publishing that she is a "dangerous individual" and a domestic Jewish terrorist.
Facebook Comments