In retaliation for the rocket attack on Beersheba early this morning, the IDF bombed 20 terrorist targets in Gaza.  In the attack, the IDF also hit terrorists in the act of launching more rockets.
RAW FOOTAGE: Terrorists in #Gaza attempting to shoot more rockets into #Israel until we stopped them. Watch until the end. pic.twitter.com/L0VYJD5nEc

— Israel Defense Forces (@IDFSpokesperson) October 17, 2018
Multiple Rocket Attacks
In addition to the rocket attack that destroyed the Beersheba home, a second rocket fired from Gaza landed off the coast of the greater Tel Aviv area.  This is known in Israel as Gush Dan.  Gush Dan is the metropolis of Tel-Aviv itself along with a number of large suburbs.  Millions of people live there.  With God's help, that rocket missed. The Gush Dan area is a residential area with little open space. A rocket that lands in Gush Dan has the ability to cause a massive amount of casualties and deaths.
Retaliation
The IDF retaliated by bombing 20 military installations in Gaza including another Hamas terror tunnel.
The IDF said it held the Hamas terror group, which rules the coastal enclave, responsible for the attack, regardless of which group specifically launched the rockets.
"Israel views the attacks along the Gaza border and on Beersheba with the utmost severity," Prime Minister Netanyahu said following a situational assessment on Gaza with his top dense officials.
"I said at the start of this week's cabinet meeting that if the attacks don't stop we will stop them.  And I want to tell you again today that Israel will act with force," he says.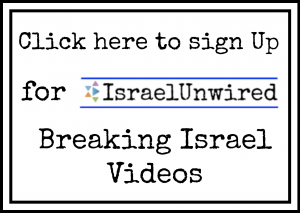 Prime Minister Netanyahu toured the IDF Gaza Division command center where he met with the look-outs who, this morning, identified the launch cell that was stopped by the IDF, and expressed appreciation for the work and activity of the command center. pic.twitter.com/oZdZbAu3Ny

— PM of Israel (@IsraeliPM) October 17, 2018
Prime Minister Netanyahu: "I said, at the start of the weekly Cabinet meeting, that if these attacks do not stop – we will stop them.
I want to tell you today as well – Israel will take very strong action." pic.twitter.com/JpfvcsDkcD

— PM of Israel (@IsraeliPM) October 17, 2018