In a Jewish New Years toast last night at the Ambassador's residence, the US Ambassador to Israel David Friedman made it quite clear that Iran will join other evil regimes in the dustbin of history.
Rosh Hashana, New Years Toast
The US ambassador to Israel, David Friedman, hosted a special toast for the New Year at his official residence in Israel. Special guests were invited from across the cultural and political spectrum of Israeli society.
We are so blessed to live in a generation where we are experiencing a US administration, with an Ambassador to Israel, that totally understands that a strong relationship with Israel, with a reality-based foreign policy, is in America's best interest to keep America safe!
It was a real pleasure to partake in the Jewish New Year l'chaim toast with the US Ambassador to Israel and his wife, Tammy.
Past Year's Achievements
During the event, the US Ambassador reviewed the top three achievements of Israel and the United States in the past year. He also spoke about the process of continuing to strengthen the ties between the USA and Israel.
"The relations between our two countries, the United States and Israel, are on a stronger platform than ever before," the Ambassador declared.
"Thanks to President Trump's courageous and historic decision to leave the nuclear deal with Iran, we are beginning to see encouraging signs that the Iranian regime, who is at the forefront of the war against Israel and wants to destroy it, is under extraordinary pressure."
"We are continuing to increase the pressure on Iran and I am certain that the greatest enemy of our generation will be thrown into the dustbin of history together with all the evils that have threatened the United States and Israel in the past," Friedman added.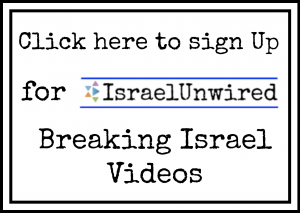 UNRWA and US Aid
The US ambassador also spoke about the President's latest decision to stop funding UNRWA. "The Trump government slaughters all the 'holy cows' on the Palestinian issue, and for many years they thought that in order to solve the problem, the Palestinians should be given more and more money."
"We spent $ 10 billion on aid to the Palestinians, until we realized that this money was not bringing us closer to the end of the conflict with Israel, we realized that this aid only perpetuated the perpetuation of the refugees and the continuation of the conflict."
The Ambassador said that they have decided to stop "throwing good money after bad money".
Full Video