France is experiencing more outbreak of violence from its growing Muslim population. Just days after the beheading of the French teacher for showing a cartoon of Mohamad, now this.
Dozens of Turks storm Armenian neighborhoods, threaten residents in Lyon #Turkey #Islamist https://t.co/YUKxZbIcud pic.twitter.com/emObYBX5L7

— Duvar English (@DuvarEnglish) October 29, 2020
We have been warning Europe about misunderstanding it's incoming Muslim population. No, not all Muslims are problematic. Many run away to the West to escape the intolerance and violence of their Muslim societies. However, many Muslim immigrants come to the West bringing with them the intolreance and violence of their native culture. And Western leaders have yet to internalize this.
The video above is one of many from Lyons, France. DuvarEnglish.com reported that Dozens of French-Turks on Oct. 28 stormed Armenian neighborhoods in Lyon, chanting Islamist and nationalist slogans during a lockdown imposed by French President Emmanuel Macron.
"Allahu Akbar!", which means God is Great, was among the slogans chanted by the mob of around 150 people who took to the streets in Décines, a commune in the vicinity of Lyon, as well as "Where are you the Armenians?", "F*** Armenia, we will f*** you!" and "It's Turkey here!"
The incident comes after a fight broke out between members of the Turkish and Armenian diasporas earlier on Oct. 28 amid a protest in defense of Armenia in the clashes with Azerbaijan in Nagorno-Karabakh on a national highway connecting the French cities of Lyon and Valence. Injuries were reported.
Miss Iraq Sums Up the Lesson the West is Ignoring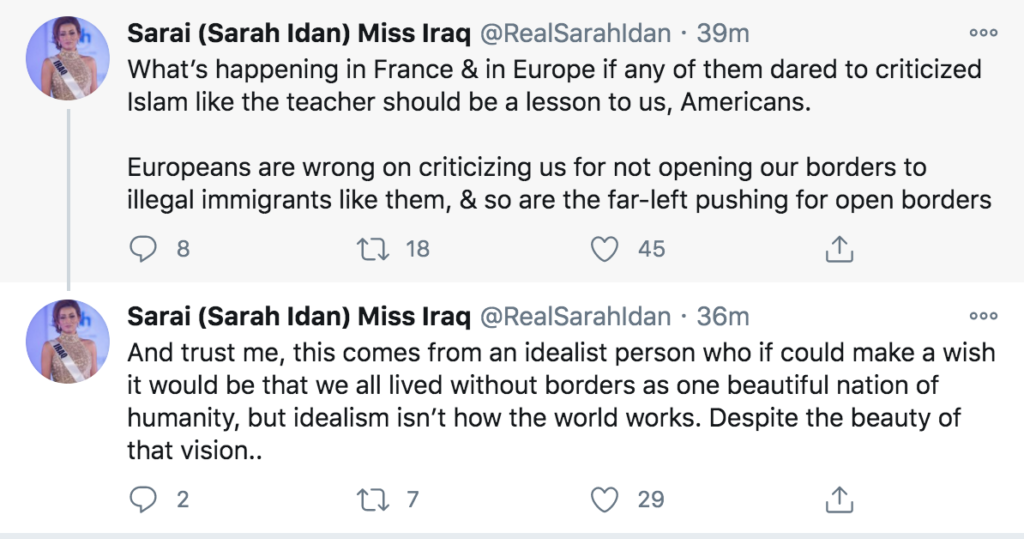 This is a recent tweet, since deleted, by former Prime Minister of Malaysia. Houston, we have a problem.