The media calls it a van attack.   Moreover, the Toronto Mayor discussed "inclusivity."  All of this transpired while nine of his citizens were just run over in a cold blooded murder. This is terror.  We need to pin the blame on the killer – not the van, and not the failure of "inclusivity!" Boost this post
Media Reporting
Look at how the media is reporting it. A van just mounted the pavement and a van mowed down pedestrians. Really? I don't think so, and neither do a whole host of eye-witnesses to the terror attack.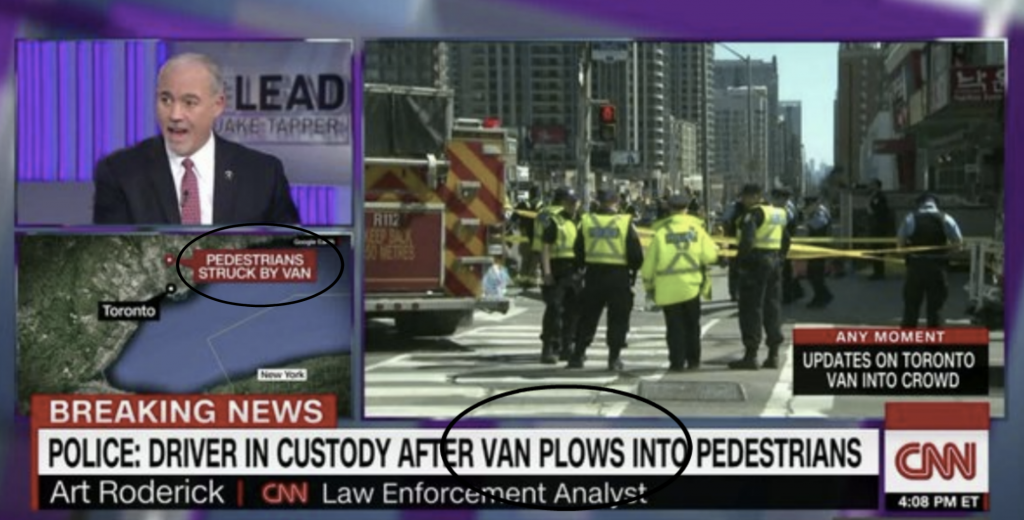 Fight Fake News Reporting! Boost this article for as little as $5.
The Latest: Toronto van attack – Five people dead after van mounts pavement and mows down pedestrians in Toronto https://t.co/83nYKX9ZdR

— Thomas Paine (@Thomas1774Paine) April 23, 2018
Calling out the Media
The Media needs to stop calling it a "van attack." If (it was) deliberate – and all signs point to the Toronto attack being deliberate – then an evil person decided to kill innocent people. That's not a "van attack."

— Spencer Fernando 🇨🇦 (@SpencerFernando) April 23, 2018
9 people were just killed & 16 more were injured in #Toronto by a man who plowed a van into a group of pedestrians & the Mayor of Toronto is talking about "inclusiveness".

Shouldn't he be talking about the driver? Who is the driver? What was the motive?

Lets' talk about facts. pic.twitter.com/IKsiHfQeRL

— Laura Loomer (@LauraLoomer) April 23, 2018
.@FaithGoldy is on the scene of the latest possible Terror Attack in #Toronto.

Q: Are we going to have to start a van rental watchlist? https://t.co/Wh0LYePcz2

— Boston🇺🇸Bobblehead (@DBloom451) April 23, 2018
Denial of terror in the name of Islam is the standard response. It only encourages the enemy. Muslim terrorists began car ramming attacks in Israel a few years ago.  Yet the world would not stand up strongly in Israel's defense. Now those attacks are happening across the Western world. The world should have come to Israel's defense back then. Those in the Muslim world are attacking us all for the same reason, yet the Western elite prefer to deny that as well.