A 220 pound stone surprisingly fell from the Western Wall today. Miraculously, a woman who prayed right nearby was not hurt at all from the falling stone. Jerusalem Mayor Nir Barkat said "a great miracle occurred this morning when the stone, weighing some 100 kilos, fell near a praying woman and did not harm her." Watch the shocking video of the stone as it fell from high up n the wall down to the plaza below.
The Woman
"I didn't hear or feel anything until it landed right at my feet, " said Daniella Goldberg, 79. She said she was praying at the site, as she does regularly, when suddenly the boulder crashed down. She told the TV news that she "tried not to let the incident distract me from my prayers."   She refused to be drawn on whether divine providence had spared her. "May we all be blessed," she said.
Whenever Jews are saved from dangerous situations or illnesses, we recite special prayers of thanks.
Here is the Mrs. Goldberg, unhurt from the falling stone, as she recites the blessing of thanks for being saved. The Rabbi of the Western Wall is there with her, together with the Minister of Holy Sites, Miri Regev.
King Herod's Stone
The stone that fell this morning in Israel is one of the original stones used by King Herod to build the Western retaining wall of the Temple Mount back in 19 BC, just about 2000 years ago!
The original Second Temple was built by Jews returning from Babylonian exile in 516 BCE. King Herod was known as an amazing builder. He thought that the Second Temple built in 516 BCE was too small, so he built four retaining walls around Mount Moriah to then refurbish and rebuild a magnificent, huge, 2nd Temple structure on top of the Mount. What is known today as the Western Wall, is the western wall of the four retaining walls that King Herod built to hold the new rebuilt Second Temple.
Stones from the Destruction of the Temple
The big fallen stones in the picture below, near the podium, fell from the wall during the Roman destruction of the Temple back in 70 BC.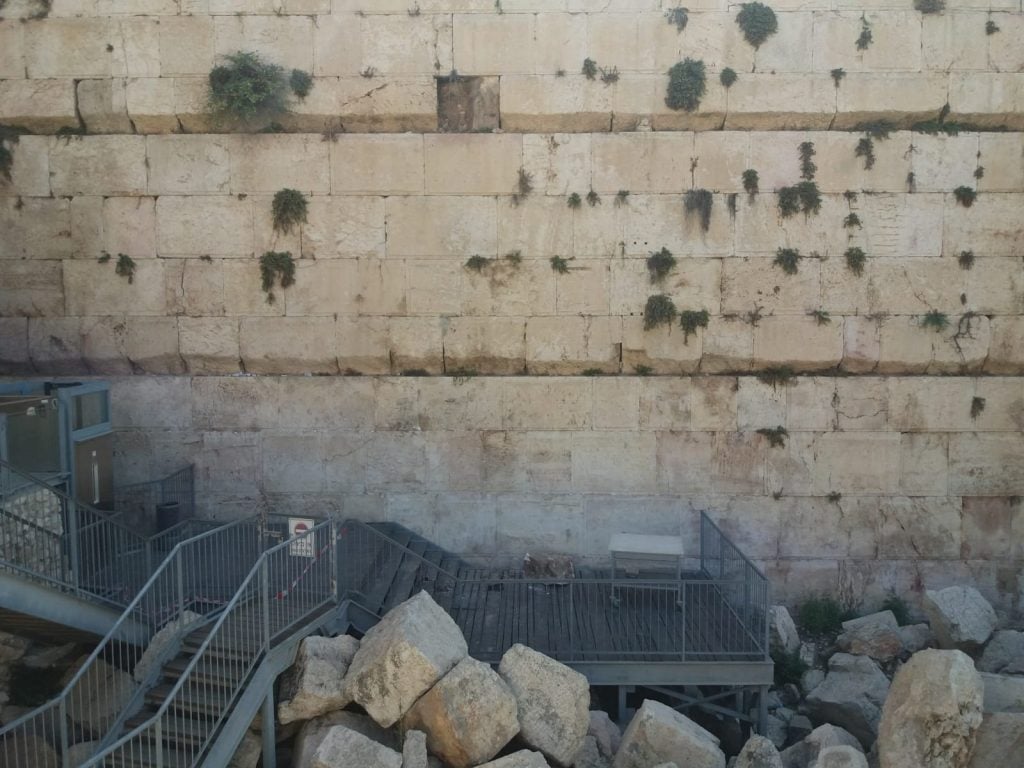 Where it Fell
The stone fell in the section that was built for Conservative and Reform Jews that are interested in egalitarian prayer.  It is located near Robinson's Arch which is not the main area of the Western Wall. This did not take place in the main Western Wall plaza area where thousands pray every day.
There is much controversy about  this egalitarian section.  The Conservative and Reform leadership in America demand a bigger space and more control.  On the other hand, much of the Orthodox Jewish establishment, in Israel and abroad, are against their demands for harming the status quo of the holy site.
Interestingly, Mrs. Goldberg is an Orthodox Jew who prays in this section every morning since it is usually empty.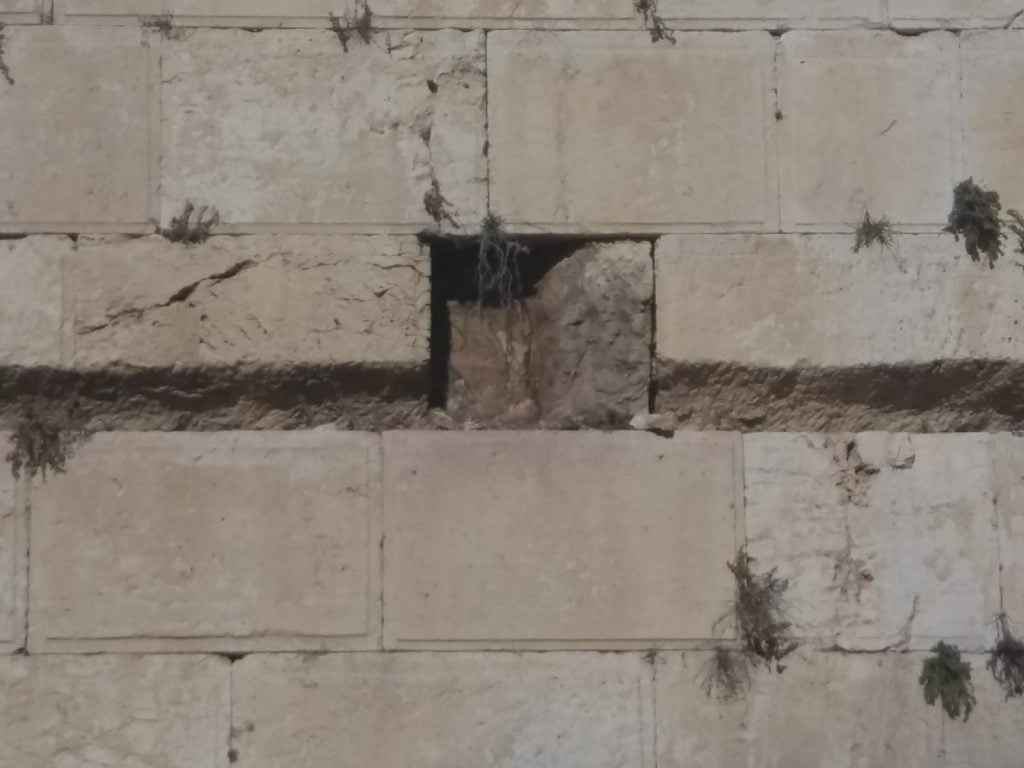 The Rabbi's Reaction
The rabbi of the main Western Wall plaza called for public "soul searching" after the incident. "This is an unusual and most rare incident that has not occurred for decades," said Western Wall Rabbi Shmuel Rabinovitch. "The fact that this powerful incident happened a day after the 9th of Av fast, in which we mourned the destruction of our temples, raises doubts and questions which the human soul is too small to contain, and requires soul-searching."
"I thank the Creator that a heavy disaster was averted," he added. "The professional authorities will investigate the incident."
Click here to read more about the situation with this section of the Western Wall of the Temple Mount