All Shashi Naidoo did was post some tweets with the factual truth about Israel and Gaza. In response, she received death threats and was dropped by some of her jobs. She totally broke down and apologized, for telling the truth. Yet now it seems that she no longer supports her own tweets with the truth any longer. Sadly, it seems that this episode has thrown her totally into the anti-Israel camp who don't care about facts, just hatred towards Israel.
Shashi Naidoo Apology, for telling the truth!
Haibo and this apology video from Shashi Naidoo pic.twitter.com/rb8NIbpUDq

— Mkabayi Wasebukhosini 👑 (@KINGAya_) June 16, 2018
Look at what Shashi Naidoo posted, only facts. Yet, the anti-Israel online community bashed her, for telling the truth. They made death threats against her. Unfortunately, all this pressure was too much for this South African celebrity to bare. She caved in, apologized, and reached out to an anti-Israel South African organization to meet and talks things over.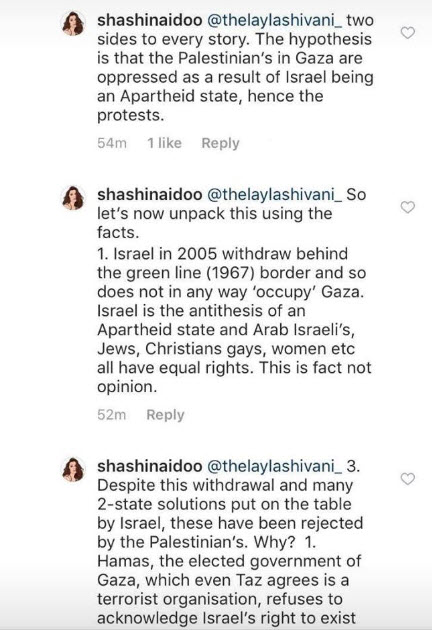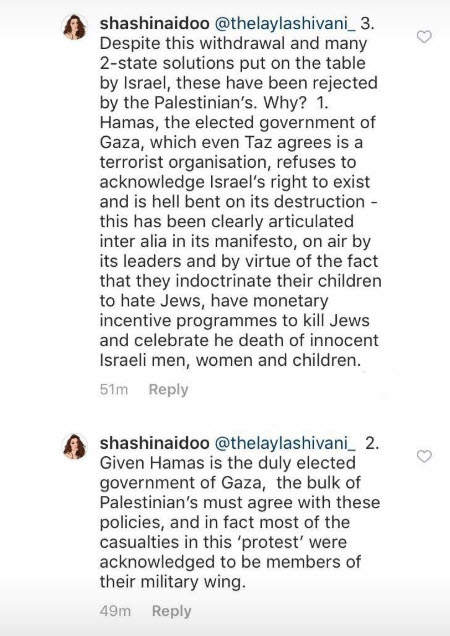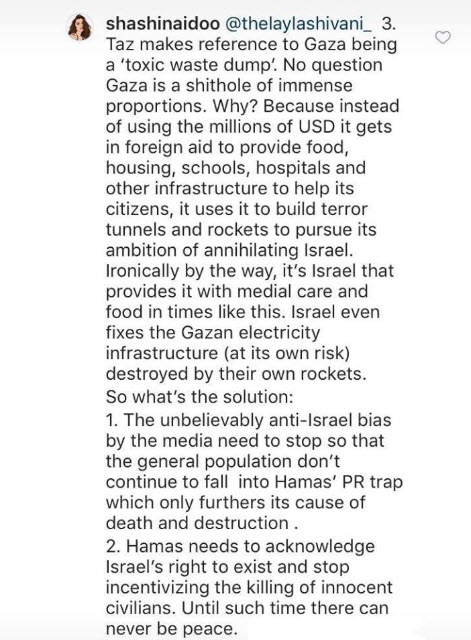 Backlash for her tweets with the truth about Israel
Due to her pro-Israel tweets, and the tremendous anti-Israel backlash against her, Naidoo was dropped as an ambassador of Glampalm Africa and lost her job as a model for jewelry designer Adila Dhorat.
The venom and hatred of the anti-Israel crowd is vicious. As Charisse Zeifert, head of communications for the South African Jewish Board of Deputies, posted in response "there is no room for nuance in Israel-Palestine debate".
"You are either for Israel or against it. No longer is there an opportunity for a nuanced approach. Once, you could support Israel's right to exist, but not each and every policy. An approach that would serve every single other country in the world. But not Israel. Not anymore."
"Now, any expression of support for that country, whether it be simply stating the facts, or expressing a personal opinion on it, is regarded as beyond the pale. And anyone who does so is seen as a legitimate target for the most horrific bullying, including even death threats."
We have no ill will against Naidoo. She was faced with a tsunami of pressure from the anti-Israel haters that cost her professionally. Too bad she couldn't see through the death threats she received to understand that they are a community of vicious haters and not ones to capitulate to. But that is a high expectation.
Please reach out to Sashi online and show her some love and support for tweeting the truth about Israel and Gaza. Maybe it's too late to turn her away from the dark side of anti-Israel hatred, but maybe not.
Let her now that regardless of her apologizing for telling the truth, we appreciate her for telling the truth.
You can tweet her here or contact her on Instagram here.
Who is Sashi Naidoo?