As Israel continues to roil from more terror attacks with murdered Jews, and braces itself for the UNHRC list of international businesses that do business in Judea & Samaria, to blacklist, a Jewish settlement leader and palestinian Arab leader joined forces to talk in Congress about economic cooperation and fighting the anti-Israel BDS (boycott, divestment and sanctions) movement.
The two-state solution has proven itself to be an unrealistic solution that just enables the continuation of the conflict and terror, yet the world still does not consider any other solution. A key reason for its failure is the absence of any palestinian Arab leadership serious about making peace. To fill this void and provide an alternative plan for Washington to support, these two leaders introduced to Congress a new paradigm based on economic cooperation that would help Jews and Arabs live together regardless of the absence of any serious palestinian Arab leadership interested in peace.
Shomron regional council Mayor Yossi Dagan, a settlement leader, considered one of the most conservative voices of the Jewish communities, made a surprise trip to Washington D.C. He traveled together with Sheikh Nasr Tamimi, a palestinian Arab Sheikh. Together they visited the US Congress for a marathon week of meetings and events, to share the vision of economic peace and coexistence – particularly in the industrial zones of Judea and Samaria, areas targeted for boycott by BDS and left-wing organizations.
In a number of meetings, the joint delegation presented paradigms for economic cooperation that can be developed further between Jewish and Arab residents of the area. The first event was with the bipartisan Texan Members of Congress, and the second with over 50 Members of the Republican Study Club.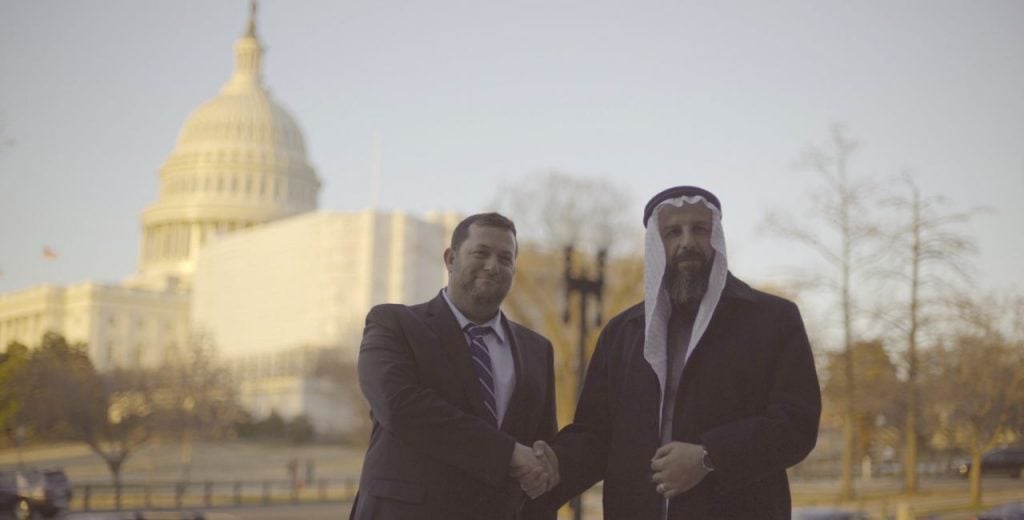 Fighting the Anti-Israel BDS Campaign
The UN plans to release its blacklisted companies who do business with Jews in Judea & Samaria. Meanwhile Dagan and his team joined with Sheikh Tamimi in two consecutive events on Capitol Hill – meeting with over 70 Members of Congress.
Yossi Dagan: "BDS is the new antisemitism. We are here to present the true face of the Shomron. Together with local Arab leaders, we work for real coexistence and a better future for all those who live in the region, to debunk the lies of the boycott movement. Sheikh Abu-Khalil is a brave leader, part of a growing movement among the Arabs of Judea and Samaria, who want to build a better future for their families", said Dagan.
Dagan mentioned Israeli Minister of Strategic Affairs, M.K. Gilad Erdan, and the decisive actions that are taken by his Ministry to fight the BDS movement and to promote peaceful coexistence as vital and important for the struggle against the de-legitimization campaign. "The actions that the Ministry is taking are creating a  big difference and managing to sabotage both the anti-Israeli organizations' funding and efforts to de-legitimize Israel. Minister Erdan is a true friend of Judea and Samaria".

Sheikh Tamimi is a brave leader, part of a growing movement among the Arabs of Judea and Samaria, who want to build a better future for their families."
Sheikh Tamimi: " We are here to give hope to two nations. We represent the position that there are two populations destined by Allah to live together.  We believe in the joint need to create a better future for Jews and Muslims in Judea and in Samaria. 

It takes hard work to bridge the gaps between us. The current political climate makes it difficult to achieve a political solution.  It will take time.
We have to overcome politics on both the Israeli and Arab side to bring about a better future for both sides.
This special trip was coordinated by Ruth Liberman and Sarah Paley of Yes! Israel, dedicated to strengthening the strategic relationship between the USA and Israel.