Following the deadly drive-by shooting terror attack on Sunday, today 4 different terror attacks took place. The first attack that began this day took place at 5AM in the morning in the Old City of Jerusalem. Then there was another drive-by shooting, and two seperate car-ramming attacks. Israelis are sick and tired about the growing terror in Judea and Samaria, with the feeling that the government is not doing enough to end the growing wave of terror.
Morning Stabbing Attack
At around 5:00 AM, a Muslim terrorist walked through the Old City of Jerusalem and, as can be seen in the beginning of the above video, stabbed a Jewish civilian walking through the Old City alleyway. After he did not succeed in stabbing the Jewish civilian, the terrorist then ran to stab a group of Israel border policemen. Upon getting struck in the head with only a light injury, the border policemen then took out his gun, and together with his partner then shot and killed the terrorist. Both of the border policemen were lightly injured.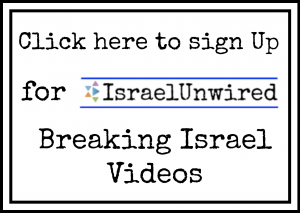 The Other Attacks
Later on there was the deadly drive-by shooting that killed two IDF soldiers and seriously injured one other IDF soldier now battling for his life after a point-blank shot to the head and a 16 year old girl. This is the second deadly drive-by shooting this week.
Later on, there were two car-ramming attacks that thankfully only lightly injured the Jews who were attacked.
Israelis Take to the Streets
Jews across Judea and Samaria, mainly, as well as in Jerusalem took to the streets and stopped traffic at some intersections. Capturing a terrorist after he commits the terror attack will not stop terrorism. The Israeli legal establishment stops all the laws necessary for the State to properly stop terrorists and make them truly pay for their terror. In addition, the legal establishment has over-legalized even the armies activities, holding the army back from truly being able to stop the terror. Many people of Israel are now angry at PM Netanyahu who has not pushed for the necessary changes either, rather allowing the legal establishment to continue to cripple the State of Israel from properly dealing with the terror.
'There is no security. @netanyahu, go home!' These were some of the chants at a boisterous protest in #Jerusalem following two attacks on Israelis and @IDF raids in the #WestBank. @JordanaLMiller reports to @calev_i24 and @NuritBen from the scene: pic.twitter.com/YjGFmsijKa

— i24NEWS English (@i24NEWS_EN) December 13, 2018
תיעוד: מתנחלים חוסמים את כביש 60 בסמוך לגבעת אסף, במחאה על הפיגוע שאירע במקום שבו נפלו שני לוחמי צה"ל ונפצעו שני בני אדם נוספים @OrHeller pic.twitter.com/WTuv0prDRt

— חדשות עשר (@news10) December 13, 2018