Former Arkansas Governor Mike Huckabee said today that 'Jews building in Judea & Samaria will bring peace and prosperity to the Arabs'. Today Huckabee visited the community of Efrat in the Judean Hills as part of a visit to Israel.
Trump would be Happy
Huckabee mentioned that President Trump would be happy to see this building "because he is a builder…that is his life". He added that "Trump is also building something new in America.  A new order that sees things clearly between right and wrong."
"I certainly can say that the president would be very proud to see beautiful, wonderful, thriving neighborhoods being built." he added.  Then he praise Efrat Mayor Oded Revivi to build a community "where people can bring their families and can thrive. Their children can be educated, they can be safe, secure, and have a wonderful future."
Huckabee full statement
Speaking to this author Huckabee mentioned that he has the utmost respect and appreciation for the Jews living in Judea and Samaria. "We stand with you as Americans and we really appreciate the courage and the conviction you have not only to live in your land, but to build your neighborhoods, your families and your future here."
Huckabee and Peace
The most important comment Huckabee made was that "What's being built here is really a bridge to peace." Huckabee understands that peace with the Arabs is not possible if Jews can't live in their ancestral homeland. Rather, peace will come with Jews who live throughout Judea and Samaria.  It will come when Jews provide more jobs and respectable salaries for the Arabs.
Huckabee mentioned that the salaries Arabs earn under Palestinian Authority rule are one-quarter of what they earn working with Jews. He understands that peaceful coexistence will come with the prosperity that comes with Arabs living in coexistence with Jews. To expel Jews and replace them in Judea and Samaria will accomplish nothing.
Full video of Mike Huckabee Visit to Help "Build" a Jewish Settlement
Watch him lay the cement at the 19:00 mark. The author asks Huckabee for a message to the Jews of Judea and Samaria at the 54:20 mark.
He Gets It
It was fabulous having Mike Huckabee visit the community of Efrat in the Judean hills.  It was great when he put down cement for another building in our ancestral homeland.
Huckabee even mentioned the possibility that he may "purchase a holiday home" there as well.
It is wonderful that the indigenous Jews are back and sovereign once again. It is even better having friends who appreciate and support us. The story of the Jewish people returning as sovereign in our ancestral homeland is a story of inspiration for all indigenous people worldwide.
Huckabee understands the reality. He understands the region and he understands what Israel is dealing with.
In referencing American policy towards settlement building in the past Huckabee said that he was happy "that the long-time, almost 15 year freeze on construction [in Judea and Samaria] is no longer in place" and that "families looking for a better life can come to wonderful neighborhoods like this."
The author with Mike Huckabee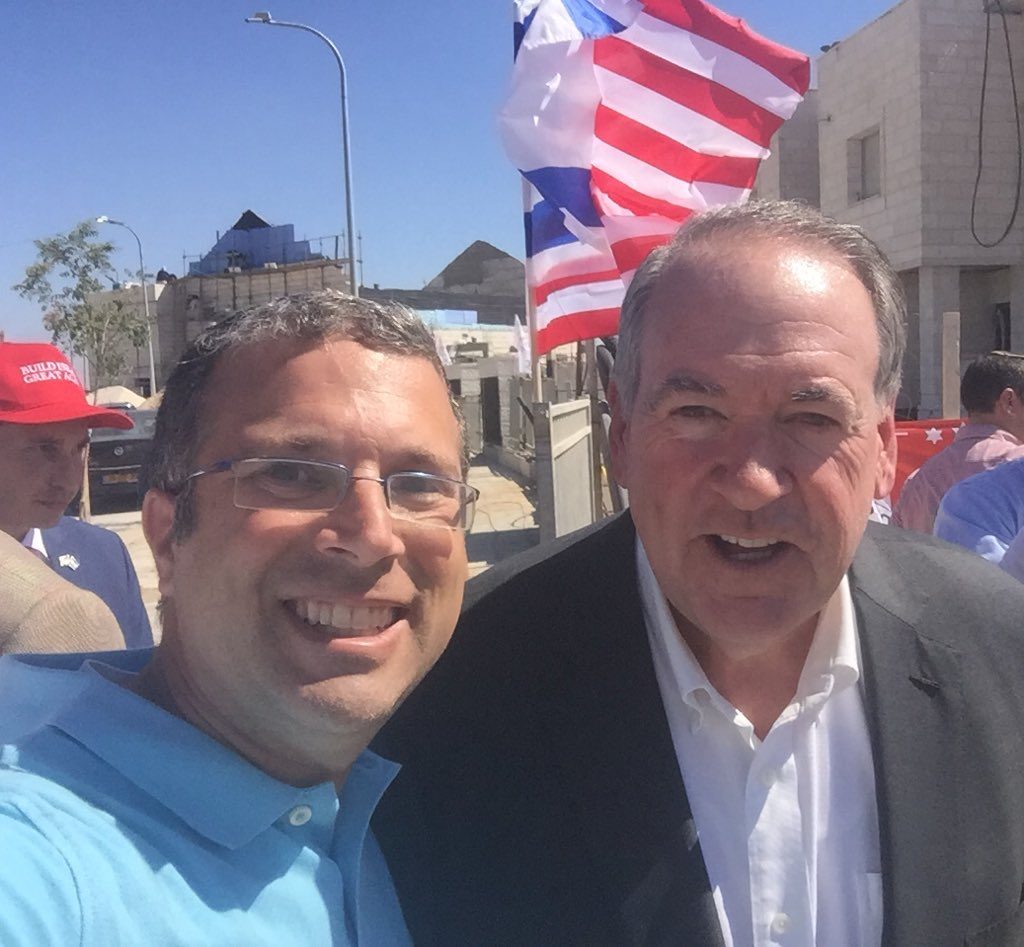 Final Author's Note
Peaceful coexistence and prosperity for the Arabs will come after Israel ends the Muslim terror and jihad against us. At that time, the only Arabs who remain in Judea and Samaria will be those who enjoy life with Jews.  They won't think of terrorizing us, because instead, they choose to live in peace with us. We are not there yet, but it is possible, and Huckabee understands that for that day to happen Jews must be able to live and thrive in Judea and Samaria.