This is not easy to watch – and it is only the trailer.  But, it is critical that this be seen by anyone concerned about our future. An entire generation is being raised on the ideals of jihad.
How important is it to you to make sure your children and grandchildren have a safe childhood?  How important is it to you to make sure the world is filled with love and happiness in this generation and future generations?
Global Threat
Well, there are extremists all over the world who educate young children today to the exact opposite.  They educate to hate and to dominate. They educate that their are people thousands of miles away from them that they need to eradicate. Jews, non-Muslims and so many others are the enemy. The ideology is not new. However, today, it is not professors in obscure locations around the world or preachers with a small group of followers that are leading the charge.  They are leaders of tens of thousands of people if not hundreds of thousands of people.  They are armed and dangerous.  And most of all, in the name of religion, they aim to dominate the entire free world.
Is the precious age of childhood a time to learn violence?  Some people think so.  Some people oppose a peaceful upbringing for their children.  Their idea of a meaningful life for their children is to indoctrinate them at a very young age to embrace violence and hatred.
Clarion Project explains that, "At best, these children internalize toxic values and become full of hate. At worst, they become terrorists themselves. Turning kids into terrorists is a horrifying violation of their human rights as defined by the United Nations Convention on the Rights of the Child.
"THE CHILD SHALL BE PROTECTED AGAINST ALL FORMS OF NEGLECT, CRUELTY AND EXPLOITATION."
Principle 9, UN Declaration on the Rights of the Child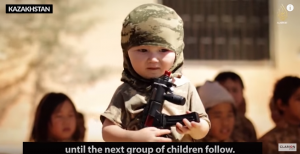 Take Action
What is there to do?  There is a whole lot to do.  This film is just one of so many things that we need to do ensure a hopeful future for the next generation.
We need to complete the film.  We need to give these children – who are victims – a voice.
Fundamental change must be our goal in these cultures and that takes decades.  But if we start with a major awareness campaign.  Then, that will provoke a conversation across continents, and lead to action that will make the world into a better place for future generations.