If you are viewing this on facebook mobile and the video does not appear because of a fb glitch, just click on the three dots in the top right corner and choose the "open in browser" option to see the video.
Baha Abu Al Ata's funeral today in Gaza:
IDF Chief of Staff LTG Aviv Kohavi:
"Baha Abu Al Ata was the senior commander of Islamic Jihad in Gaza, responsible for most attacks emanating from Gaza over the last year…he was a ticking time-bomb…there was a window of opportunity that we utilized precisely."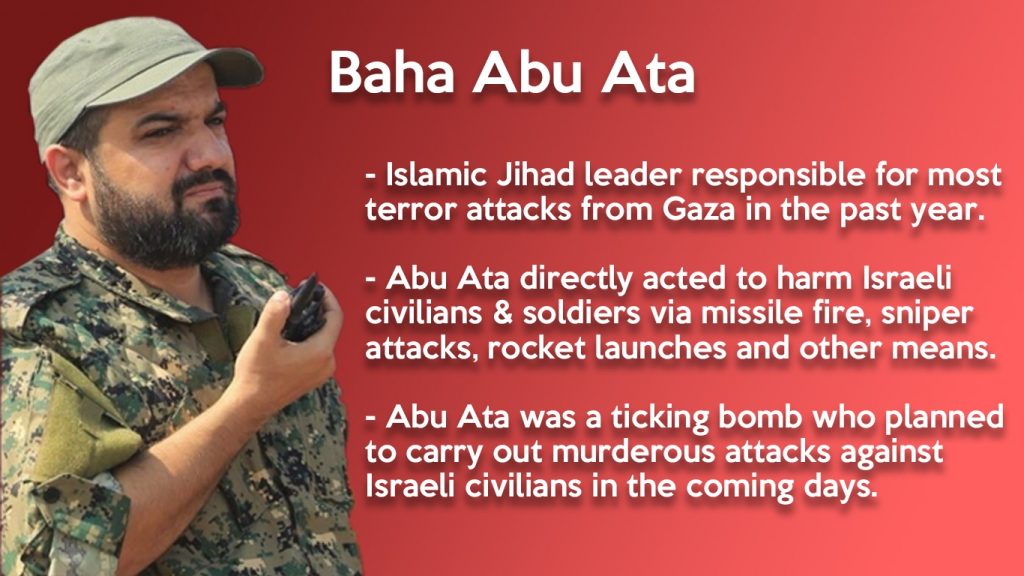 Baha Abu al-Ata
Baha Abu al-Ata, the senior leader of the Palestinian Islamic Jihad in Gaza, was killed in a targeted attack by the IDF in Gaza in the early morning (November 12).
Abu Al-Ata reported to Palestinian Islamic Jihad by Secretary-General Ziad al-Nahala, who operates out of Beirut. Nahala is linked to the leadership of the Iranian Revolutionary Guards and Hezbollah.
Abu Al-Ata, a member of the Islamic Jihad terrorist group since 1990, has been very active recent years, directly ordering attacks on Israeli civilians and IDF soldiers, including rocket attacks, mortar bombs, sniper attacks and other means. He was the major force in trying to disrupt the cease-fire between Israel and Gaza.
Abu al-Ata instigated most of the terrorist attacks from the Gaza Strip this year, including:
• the massive rocket attack in which 690 rockets were fired at Israel between May 3-6, 2019 (between Holocaust Remembrance Day to Memorial Day);
• the rocket attack on Sderot during the Sderot Festival, an outdoor event with hundreds in attendance, on August 25, 2019;
• the most recent rocket barrage at the city of Sderot and the surrounding communities, on November 1, 2019.
Abu al-Ata was currently planning imminent attacks against Israeli civilians and IDF soldiers. These planned attacks included preparing squads for infiltration of Israel, sniper attacks, booby-trapped drones, and rocket fire at various range. As such, he had become a "ticking bomb" and a legitimate target.
Islamic Jihad in Gaza aims to kill Israeli civilians.

We.
Will.
Stop.
Them. #JiHadEnough pic.twitter.com/Kam79o30Ln

— Israel Defense Forces (@IDF) November 12, 2019