If you are viewing this on facebook mobile and the video does not appear because of a fb glitch, just click on the three dots in the top right corner and choose the "open in browser" option to see the video.
Israel's Iron Dome system in action.
Today I experienced something that literally shook me to the bones and I must share it with you. I woke up to a regular Tuesday morning at 6:50 am to get the kids ready for school. It was then when the initial alert came in on the news: URGENT: From Home Front Command… rockets falling throughout Southern Israel… stay on alert… local schools in our region remaining open. Wait, what happened? It looks like we targeted an uber-terrorist in Gaza. Wow! What an incredible operation by the IDF and Shin Bet (Israel's CIA). A veteran arch-terrorist and murderer, the mastermind of many attacks of the last year has been taken out in a brilliantly coordinated and targeted strike, carefully timed to limit collateral casualties. But now millions of innocent Israelis are potential targets for Hamas as an anticipated rocket barrage to hit Israel progresses throughout the morning.
50 minutes later, after the last kid was dropped off, another alert: Home Front Command has revised its decision and schools in the area are closed. What now? It was incredible to watch our community snap into action. Parents rushed back to school to drive cars packed with kids home, teachers shepherding students back on to their buses. Older kids escorting younger kids in the streets. Within 15 minutes everyone was safely in their homes. My daughter serving in National Service in Tel Aviv had already sat through 2 rocket alerts earlier in the "safe room" of her apartment. Her work at a school in southern Tel Aviv was canceled so she decided to take a bus home.
I went to pick her up since there is limited direct bus service to our small community. She called to tell me she was almost there. All of a sudden I heard a siren. Wait, was it through my phone, Leah's phone or from just outside my car? Wait, Leah is getting off a bus in Modiin… where is she? Wait, I am driving to Modiin and I am close to the bus terminal. So that must mean I am driving in the middle of a rocket attack! What do I do?? Wait, I think I know. Pullover and get out of the car. Where? Oh, there is a wall next to the bus stop. Ok. Stop the car. Get out. Grab your phone to check on the kids in the house and get to the wall. Cover your head. Wait, now what? I wait a minute that seemed like an hour. All of a sudden: Boom, Boom. Wait, what was that explosion? Oh, that was the Iron Dome. I guess they set it up here recently. It was here during Operation Protective Edge but was moved afterward. I didn't know that when the interceptors are released, it looks like huge firecrackers exploding. Now what? Call Leah. Is she undercover? Is she safe?? And then: BOOM ! Huge explosion. Smoke in the sky. The Iron Dome worked! Wow. Incredible. Impact right over the shopping center I utilize at least once a week. But I am now shaking. Wait, how long do you wait for the "All Clear"? I look at the people a few meters away and we nod. Are you ok? Yes. Are you scared? Of course. But it's ok. Let's get back into our cars and go on our way. Like this is normal. I pick up Leah and we drive home.
And life goes on. The kids are making pancakes after coming out of our shelter. A free day from school. Yay! Except I think about the people who live through these attacks day after day in the Sounthern part of Israel and can't imagine how they remain so strong. And I think, thank you, G-d, for the Iron Dome. It is literally a miracle over our heads, letting us live a somewhat normal life in this crazy region of the world. Thank you, Israel, for keeping your ordinary citizens safe from vicious and cruel rocket attacks. Thank you, America, for selling the Iron Dome to us. With the protection of G-d, Israel, and the United States, I feel safe again.
Iron Dome pictures that I took crouching next to a wall, after I got out of the car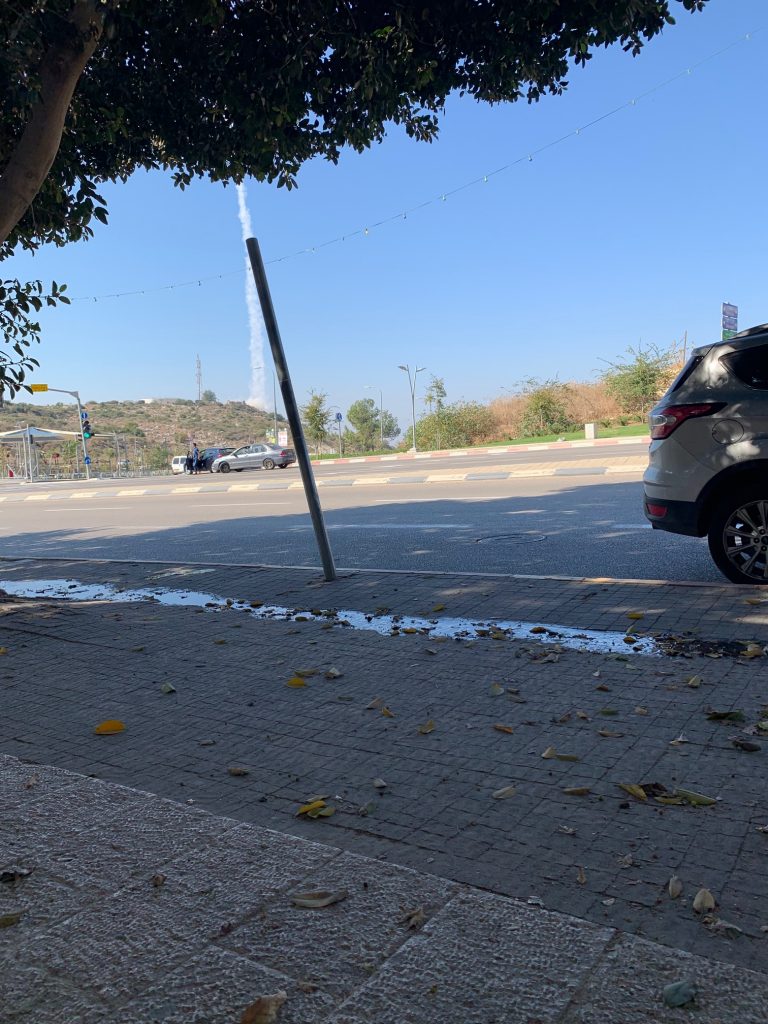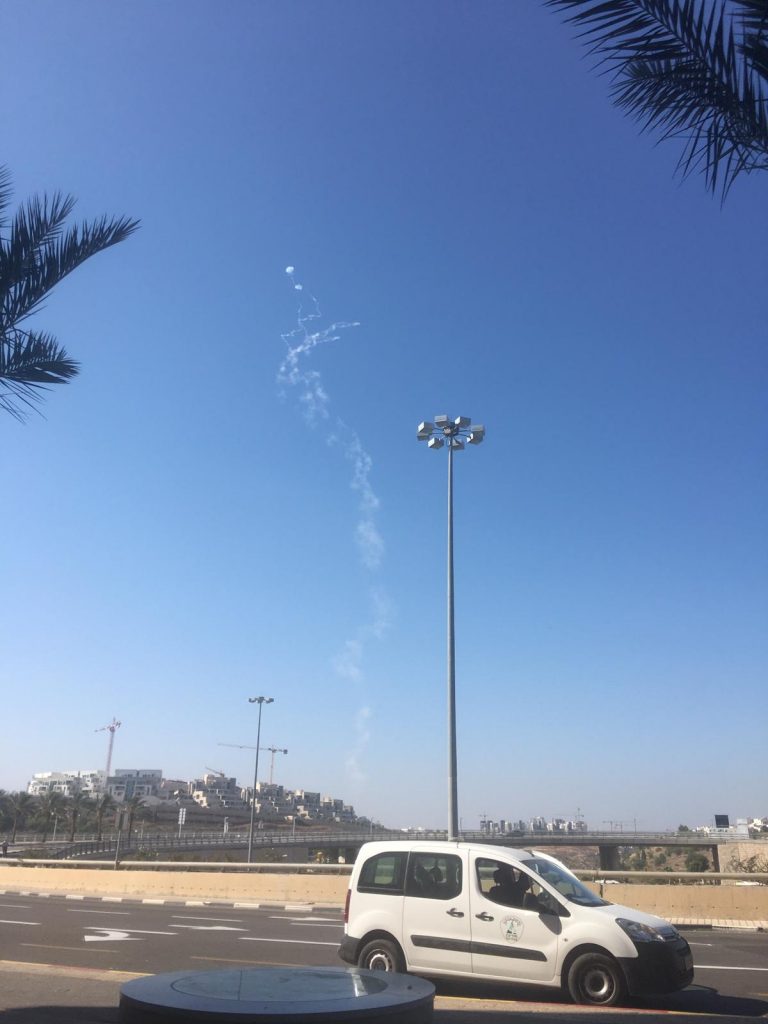 The barrage of rockets being fired by Islamic Jihad in #Gaza at Israeli civilians after our surgical strike on their commander shows exactly why he was targeted in the first place.

Terror targets civilians.
We target terror.#JiHadEnough pic.twitter.com/wVIZ1me5dd

— Israel Defense Forces (@IDF) November 12, 2019