The English mainstream media has totally ignored this groundbreaking story. The Palestinian Authority has been caught kidnapping a US citizen.  But there is more to it than that. The kidnap is only the beginning of the story.  Since then,  it has escalated tremendously over the past few weeks. While the Israeli media and Arab Muslim media gave exposure to this developing story, the US media remained silent.
Baruch Yedid is an investigative journalist, and a former Intelligence officer.  He specialized in Arab affairs at the Israeli Ministry of Defense. Don't miss this interview where he shares with us his exclusive intelligence information.  As we speak, this info is making waves in the Arab Muslim world.
Kidnapping
The whole story begins with a group of Jews who purchased a previously Arab owned property in the Old City of Jerusalem. This purchase led to the Palestinian Authority illegally kidnapping a US citizen in sovereign Israeli territory – in Jerusalem. Not only did the Palestinian Authority go against international law by kidnapping a US citizen – they also went against international law by doing it in sovereign Israeli territory.
The horrifying aspect of the kidnapping is why the Palestinian Authority kidnapped this US citizen. It is because he allegedly was involved in the sale of an Arab property in the Old City of Jerusalem to Jews. According to the Palestinian Authority, that is illegal.  But more than that, it is punishable by death!
Feud
But Yedid provides us the true insight into the real reason of the kidnapping. The sale of the Old City property to Jews opened up a feud between rival Arab factions. Mahmoud Abbas and the Palestinian Authority then had to get involved and show that they have control over Jerusalem.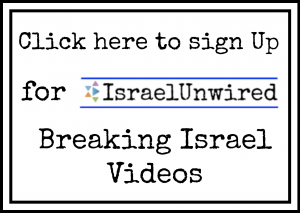 The Chief Rabbi of Jerusalem
As Yedid explains in the interview, the illegal Palestinian Authority kidnapping of the US citizen is only the beginning of the story. It then escalates to a Jerusalem Muslim Arab, killed in a car accident, being forbidden by the Palestinian Authority and Muslim leaders to be buried in a Muslim cemetery. His family had to bury him near a garbage dump in the middle of the night.
Yedid then got the Chief Rabbi of Jerusalem involved, Rabbi Stern. The Chief Rabbi issued a historic and unprecedented Rabbinic proclamation that permitted this Muslim to be buried in a special section of a Jewish cemetery.
This has caused an uproar and embarrassment in the Muslim Arab world, and highlights the injustice of the Palestinian Authority and the Muslim world.
This is an exclusive interview story that you do not want to miss to hear the whole story.