Officials confirmed at least one person is dead after a building partially collapsed in the Miami suburb of Surfside, Florida, early Thursday morning. Many Jewish families live in the community and building. Ninety people from the building are stilll unaccounted for including tens of Jewish members of the community. Many of the Jews are from the local Chabad community and many of them also have Israeli citizenship.
Footage of the Building Collapsing in the Middle of the Night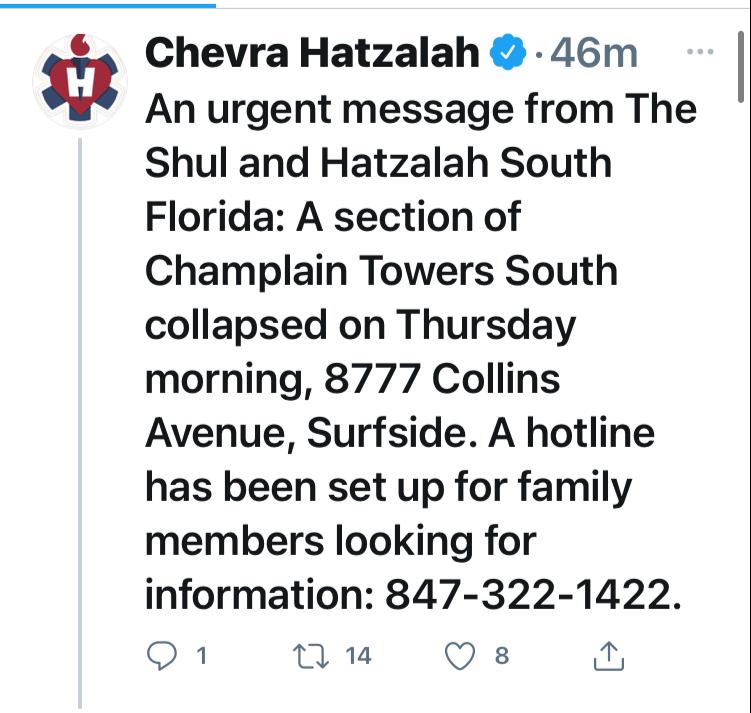 The mayor, speaking a press conference, expressed the fear that the building could collapse entirely. As of now, half the units in the building have collapsed, according to Miami-Dade mayor. 
Officials also believe there may be multiple fatalities. Thirty-five people were evacuated from the building according to Miami-Dade fire chief, as well as two survivors pulled from the rubble. The mayor said 15 family units walked out of the building. Ten people were treated on-site and two were taken to the hospital, however CBS is reporting that there have been nine hospitalizations so far. One of the hospitalizations was the single confirmed fatality, according to the mayor. He added that there are likely several apartments still unaccounted for. 
Miracle: Boy Rescued from Collapsed Building
MIRACLE: rescuers pull a boy alive from the rubble after the devastating partial collapse of a large, multi-unit residential building in Surfside, Florida.