For the second consecutive year, the Orthodox Jewish Congress (OJC) will be hosting the premier Anglo-Israeli business networking event and business conference.
The purpose of this expo is to offer Israel based entrepreneurs and job seekers, professional guidance and networking.
Watch the amazing Rabbi Issamar Ginzberg give some business strategy advice at an OJC Jerusalem event held last year.
The OJC's mission is building economic bridges for entrepreneurs and communities around the world.
Israeli residents from North America, Europe, South Africa and other English speaking countries face various cultural and/or legal struggles when trying to succeed in the "Sabra" business world. Unfortunately, as a result, many promising ventures continually struggle, or were even forced to shutter. Many Anglo-Israelis feel forced to keep their business in their original country, taking the painful step of being away from their family and Land for extended periods of time.  
"There is no way to quantify just how many cascading success stories have resulted from the Israel Division and last year's inaugural Expo and Conference," says Duvi Honig, Founder and CEO of the Chamber. "We look forward to building upon all this empowerment and success at the upcoming event."
Jerusalem Expo Program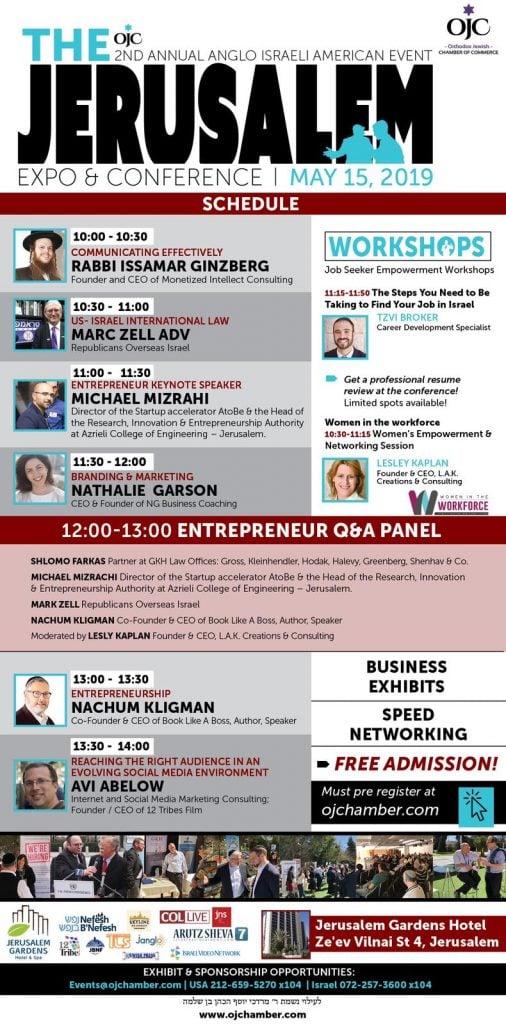 Recap Video of Jerusalem Expo 2018