President Trump gave a powerful Chanukah holiday speech at the White House to celebrate the holiday together with the invited guests. One does not have to like the President.  But it is impossible for people to call this President an antisemite. He has a deep understanding and appreciation for the Jewish people, and the State of Israel. His holiday message also included a strong message against antisemitism and a pledge to stamp it out.
The Holiday of Lights
President Trump understands that the holiday of lights is not just about good feelings and "values."  It is about the power of the Jewish people to overcome.  It is about the direct connection between the holiday and our homeland, Israel, Jerusalem and the Jewish Temple that stood in Jerusalem.
"Melania and I send our warmest greetings to our Jewish brothers and sisters in the United States, in Israel, and around the world celebrating Hanukkah."
"Today, I am thrilled to commemorate the miracle of Hanukkah. More than 2,000 years ago, a band of Jewish patriots, led by Judah Maccabee, reclaimed their freedom from an oppressive dictator who had persecuted the Jewish people and ransacked the Holy Temple."
Miracle of Oil
"After their victory, they prepared to rededicate the Temple. They found only enough oil to light the lamp for a single night. You've all heard that before. But, despite this, the lamp burned brightly for eight nights, an everlasting symbol of Jewish perseverance. Incredible."
"Throughout history, the Jewish people have suffered unthinkable repression and terrible violence. Yet, in the face of this hardship, the Jewish people have endured, overcome, and thrived. Thrived like few, that I can tell you. Thrived."
"Five weeks ago, our nation mourned a horrific tragedy. Fourteen — eleven Jewish-Americans were brutally murdered in a sinister anti-Semitic attack on the Tree of Life synagogue in Pittsburgh. And we went to see what had happened and to meet some of the people.  They were incredible people. And the way they stood up so bravely, so proudly, was just something very incredible to see. The rabbi was just a great person."
Confront Anti-Semitism
"In the aftermath of that wicked assault, we reaffirmed our solemn duty to confront anti-Semitism everywhere it occurs. We must stamp out this vile hatred from the world."
"Civilization is indebted to the Jewish people for their incredible contributions to art and science, history, culture, and society. Since the founding of America, Jewish communities have uplifted every aspect of our national life."
"Today, we renew our gratitude for those amazing blessings and we reaffirm our unbreakable solidarity with the Jewish people."
The Full Speech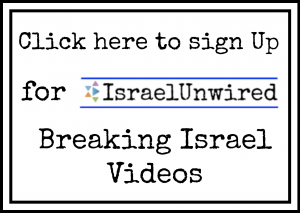 Chanukah, Judea & Samaria
Did you know that the story of Chanukah took place in Judea & Samaria? Check out the following graphic. Anyone who says that Jews are occupiers of Judea, Samaria or anywhere in Israel, are ignorant of historical facts.