Israeli PM Netanyahu made a very important clarification about antisemitism in Europe. He responded to a recent question about the media's reporting of Hungary as a fascist and antisemitic government. This is in response to today's reality where many who call the Hungarian government antisemitic and fascist for pushing a law against George Soros and forbidding entry of Muslim migrants into Hungary.
Netanyahu
PM Netanyahu made clear that he judges governments based on their actions. In response to the question about Hungary being called a fascist government by the mainstream media, Netanyahu made clear that the current Hungarian government is an active partner against antisemitism. He mentioned that Hungary's current leader Viktor Orban recently called out the fascist parties in Hungary and set up a center against antisemitism in Hungary. He also mentioned similar actions of Sebastian Kurz, the Chancellor of Austria. Netanyahu clarified for the audience of journalists that he judges governments based on their actions, and that these current Eastern European governments are not antisemitic.
On the other hand, Netanyahu made clear that "anti-Zionism today is modern antisemitism."  This is a clear call for all countries around the world, including East & West European countries, to not just call out the antisemitism of the right but also to call out the antisemitism of the left. They disguise their Jew-hatred as anti-Zionism but they are today's modern antisemites.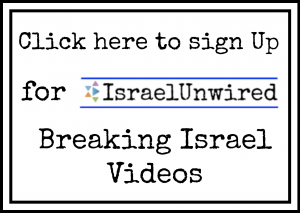 Hungarian Journalists Tell All
I had the recent opportunity to interview two Hungarian activists, who are also journalists, here in Jerusalem. They were both extremely active in the struggle against the Hungarian fascist party that was rising to power in Hungary. Thanks to their efforts with tens of thousands of other Hungarians, they stopped the growth of the fascist party. They were literally scared for their lives and for the lives of Hungarian Jews if the fascist party had won enough seats in the last election. However, they don't understand why a law against George Soros, who is behind trying to create economic upheaval in Hungary is antisemitic.
They explain the difference between the true fascist parties in Hungary and the government today. They are very saddened that Western media sources portray today's Hungarian government as fascist, while it is the most Jew-friendly and Israel-friendly government Hungary has ever had.
I highly suggest watching this very important interview with them. It is eye-opening, to get a better understanding of antisemitism in Europe today.
The most important point that came out of this interview is that antisemitism exists in Europe on both the left and the right. However, people can't just call out the antisemitism on the right while ignoring the antisemitism on the left.