Some people praised the fact that the rally included Jews from across the spectrum, conservatives to progressives. However, while I'm encouraged by the wonderful sense of unity that was displayed at the rally, and the strength that it will give many, the fact that progressive Israel haters, who actively enable the growth of antisemitism in America, is proof that the Jewish establishment is not equipped to deal with saving American Jewry from the growing antisemitism. And that saddens me.
They are not equipped to fight the growing Jew-hatred in the USA if they are not able to call out the organizations, leaders and participants who enable some of the worst antisemites in the world, the Muslim antisemites who murder Jews in Israel, and their partners on US college campuses.
One can not protest about horrific antisemitic acts against Jews in NYC, Jersey City, Pittsburgh etc., but enable and support the horrific global BDS antisemitic campaign against the Jews in the Land of Israel.
The sad thing that those people do not have the integrity to realize that their actions and beliefs are direct support for the Jew-hatred they profess to stand up against.
Actual terrorists are involved in the boycott, divestment and sanctions movement, portraying themselves as "human rights workers", but yet they are actual terrorists! Yet, there are organizations like IfNotNow, JVP, Truah Rabbis and others, who all marched at the rally in NY, that support the "struggle" against the fake Israeli "occupation" and "apartheid". Their activism against Israel actively enables the Muslim antisemites who murder us and try to destroy us here in Israel.
No fight against antisemitism can be won so long as their is silence against the voices who support the Muslim antisemites who kill us in Israel. There is no bigger antisemitism than the Muslim antisemitism we deal with. Thankfully, we in Israel are blessed to have an army to use to defend ourselves. No more persecution and pogroms without being able to defend ourselves. 2,000 years of that was enough. Those days are over, thanks to being blessed to once again be able to live in our ancestral homeland and have an army of our own.
IfNotNow and JVP in Their Own Words Silent to Muslim Antisemitic Terror in Israel
Irony
"When Jewish people are under attack, what do we do? Stand up, fight back!" #SafetyInSolidarity #JewishandProud #StandTogether #NoHateNoFear pic.twitter.com/Ee88He3U2x

— Jews for Racial & Economic Justice (@JFREJNYC) January 5, 2020
So Jews in America are allowed to stand up and fight back against antisemities in America, but they don't approve of Jews in Israel in standing up and fighting back against the Muslim antisemites who try to kill us. Right.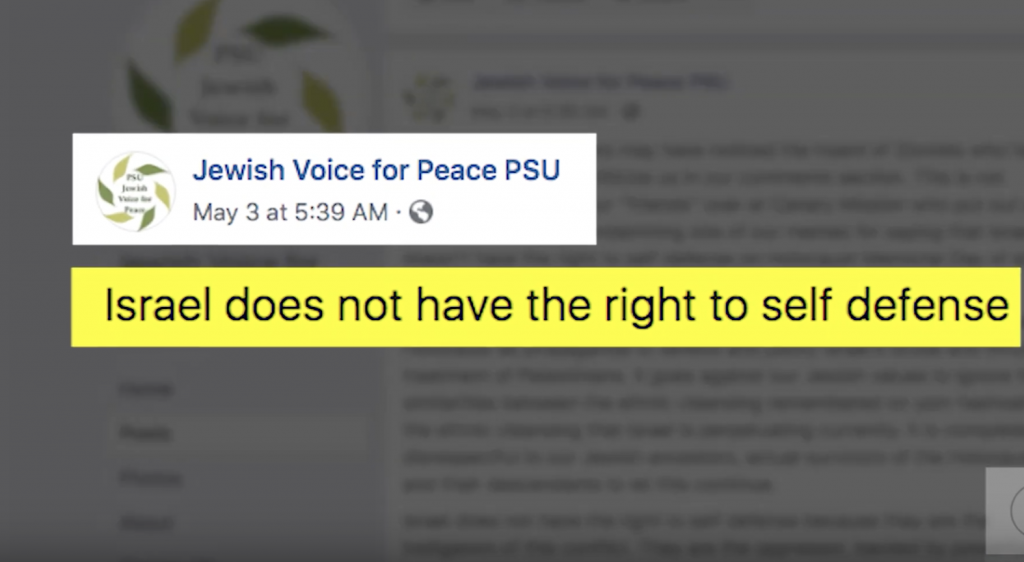 Zionist NGO Calls Out the Hypocrisy
The American Forum for Israel, a member organization of the American Zionist Movement, the American affiliate of the World Zionist Organization, decried the participation of what they definded as "anti-Israel organizations" like IfNotNow and the Jewish Voice for Peace at the "No Hate. No Fear" rally against anti-Semitism held in New York on Sunday.
"These organizations should be persona non grata and should be shunned by all mainstream Jewish and Zionist organizations, not welcomed on a march against anti-Semitism," Dr. Dmitry Shiglik, Chairman of the American Forum For Israel, who participated in the rally, said. "They are by their nature supporting anti-Semitic initiatives and partner with anti-Semites. Their role is purely to divide the Jewish People and to stand against its unity."
"You can not pretend to stand in solidarity with Jews when you stand against the Jewish State and Jewish communities in its indigenous and ancestral homeland. This is a hypocrisy and a contradiction, and we should not be afraid to say so."
"Their Zionism is about concessions, submission and weakness," Dr. Shiglik said, about the liberal Jewish establishment. "Unfortunately, they are in control and place Jews who want a strong, proud and successful Israel on the sidelines, and try and keep us out. However, we want to stop this and have our voice heard. We have an opportunity to say enough, we will no longer accept this contempt and disdain.
"We should stand up proudly and say it is our time, it is time for our Zionism. Our Zionism is about strengthening Israel, it is about standing unequivocally with Israelis against their enemies, and it is about ensuring an unbreakable partnership between Israel and the Diaspora. It is about fighting Antisemitism in all of its manifestations, including anti-Zionism."