Al-Arabiya news network reports that the Beirut blast was in an ammunition warehouse belonging to the Hezbollah terrorist organization. The details that caused the blast are still unknown.

Some are saying that it was the explosion of a warehouse filled with fireworks.
Major General Ibrahim, the Director-General of Lebanese Intelligence, dismissed the fireworks explanation as "ridiculous," attributing the blast to confiscated highly-explosive materials being stored at the local port.
Local Lebanese media reported that the confiscated material was sodium nitrate.
Reportedly, many dozens are wounded and/or buried under the rubble, with over 3,000 injured.
Some are blaming Israel for the blast, but Israel says it has no connection. More than that, Israel has reached out to Lebanon, through international channels, offering assistance and medical aid.
The world must point the figure at Iran and Hezbollah for endangering Lebanese citizens by having a highly dangerous weapons depot in the center of a civilian population.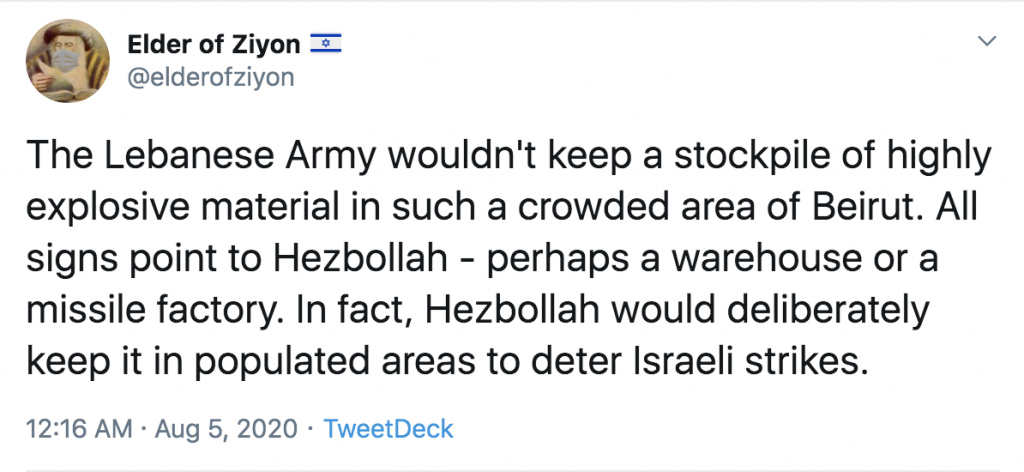 Hezbollah is an Iranian proxy that has caused tremendous damage to Lebanon, and this is certainly one of the deadliest events to prove how dangerous and destructive Iran and Hezbollah are to Lebanon and her citizens.