The yellow vests protest movement started out as a protest against French economic policies.  However, since then, it developed into something much greater, with Jew hatred playing a more prominent role. Very sad. This is history repeating itself. Whenever a country experiences economic difficulties, the Jew ends up as the easy scapegoat.  Then antisemitism grows. Unfortunately, what began as a protest movement in France, has now also spread to other countries, with the Jew hatred component as well.
Big Problem
The big problem for French Jews today is that they feel the hate from all sides.  The far-right is showing their hates towards us Jews because they say Macron was a puppet of the Jewish bankers since he worked for Rothschild Bank.
The far left hates the Jews because of the fake cause called "palestine."  That identity was created in the 60's for the sole purpose to destroy the one Jewish state of Israel and murder Jews.  Muslims hate the Jews also because of the fake cause called "palestine."
Thanks to all of this, and now the yellow vests protests with all the violence, France has become less and less safe for the Jews.   This despite the fact that when these protests began they had nothing to do with the Jews.
Understandably, not all yellow vests protestors hate Jews.  But the movement is being hijacked by Jew haters, so protestors should beware.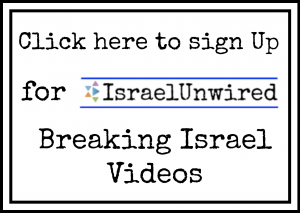 Example of Yellow Vest Vandalism in Paris
Yellow Vests & Jew Hatred
Another two minutes to find the first example of antisemitism of the day. Again, from the Yellow Vests Canada page. The preceding posts are about them hating anti-fascism and communism, so equating Judaism with communism is antisemitic in this particular context. pic.twitter.com/MuX7WpYx2e

— Canadian Anti-Hate Network (@antihateca) December 15, 2018
Witnessing the Dreyfus affair in Paris , Herzl realized if #Antisemitism was so strong in world's most liberal city the #Jews had no future in #Europe .
Is the antisemitism now being embraced by #GiletsJaunes in Paris a confirmation of Herzl's prediction?https://t.co/eHO6AkWEQR

— Viktor Hardarson (@1vitaceae) December 17, 2018
#YellowVests protests transforming into #Antisemitic incitements asking the departure of #Jews from #France. National Bureau for Vigilance Against Antisemitism says the movement has an anti-Semitic base that repeats conspiracy theories about Jews and power https://t.co/C6cjVeHJtc pic.twitter.com/MQMhz3ZBu5

— Adam Milstein (@AdamMilstein) December 16, 2018