Hamas terrorists bombarded Israel with a rocket attack for 3 hours, and they are still firing. One home in the Israeli town of Sderot has been hit. 6 Israelis are injured so far from the attacks. Israel's Iron Dome aerial defense system intercepted four rockets, while the majority of them landed in open areas. The IDF has begun to attack Hamas targets in Gaza.
Israelis Run for Cover from Rocket Attack
צרחות ועשן: תיעוד רגע נפילת הרקטה בשדרות@Itsik_zuarets pic.twitter.com/f37OHj3aA1

— כאן חדשות (@kann_news) August 8, 2018
Ceasefire?
World powers have been trying to arrange a ceasefire between Hamas and Israel. The only problem is that Hamas has proven that in a ceasefire, Israel ceases and the Hamas fires. After every chance of acheiving a ceasefire, Hamas either starts a rocket attack or shoots across the border.
Israel has tried as hard as possible to hold back from a full out offensive against Hamas because of the bigger strategic danger of Iran on Israel's Northern border. Hizbullah, an Iranian proxy, has 150,000 rockets in Lebanon and Iran has forces in Syria.
No matter how hard Israel has been holding back militarily, it seems that Hamas is baiting Israel to attack, as with tonight's rocket attack.
After every past military operation in Gaza, the mainstream media headlines make Israel out to be a country that performs war crimes against the not so "innocent" Gazans. No matter how hard Israel tries to not harm civilians, civilians are always hurt because Hamas uses them as human shields, then making Israel look horrible in the media. In addition to the world sympathy due to that situation, the Western countries then pour money into Gaza to help them rebuild from the destruction of Israel's military offensive.
It is very possible that Hamas' strategy today is exactly that, to draw Israel into a military offensive to then end with the same beneficial outcome to Hamas, not caring about the innocent lives lost, both in Israel and in Gaza.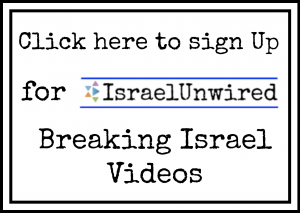 IDF Spokesman
Tonight (Wednesday), IDF fighter jets targeted 12 terror sites in the Gaza Strip, including a tunnel-part and concrete factory, an offensive maritime terror tunnel shaft along the coast and several terror sites in military compounds throughout the Gaza Strip, among them rocket manufacturing facilities and a central logistical military complex.
Israel Attacks Hamas Targets in Gaza
The tunnel-part factory is a site which was intended to be used as a hotel, and was overtaken by the Hamas terror organization in 2012. The factory manufactures parts for offensive terror tunnels under civilian disguise.
The strike was conducted in response to the shots fired at civilian engineering vehicles earlier today, and in response to the multiple rockets launched from the Gaza Strip at Israeli territory a short while ago.
The Hamas terror organization continues to target IDF troops and security infrastructure as well as its terror efforts aiming to harm Israeli civilians.
The Hamas terror organization is responsible for the events transpiring in the Gaza Strip and emanating from it and will bear the consequences for its actions against Israeli civilians and Israeli sovereignty.
The IDF views Hamas' terror activity with great severity and is prepared for a wide variety of scenarios while continuing to fulfill its mission to defend Israeli civilians.
Gaza Port in Flames After IDF Attack