The "path of the pilgrims" was used by Jews 2,000 years ago to ascend from ancient Jerusalem, the City of David, to the Temple Mount. The archeological dig has lasted over a decade in uncovering this historic street.
US Ambassador David Friedman and Special US Envoy to Israel Jason Greenblatt were present for the ceremony symbolizing "bedrock proof of the Judeo-Christian heritage and values that our two countries share". Here they are breaking through the ceremonial wall to highlight the historic street.
U.S. Ambassador to Israel David Friedman and President Donald Trump's Middle East envoy Jason Greenblatt broke open a new tunnel running under the ancient City of David, in Jerusalem, during a ceremony inaugurating this new archaeological project.
The ceremony inaugurated the "Path of the Pilgrims" named based on the fact that this road was used by Jews to ascend to the Second Temple.
While to any normal person this is a significant historic event, unfortunately many journalists and anti-Israel activists ignored the magnificent historic aura of this event and instead politicized it making Israel look bad for "judaizing" Jerusalem and harming the "palestinian" arabs. The US envoys themselves answered the absurd claims.


And another recent claim about Jerusalem rebuffed by Jason Greenblatt.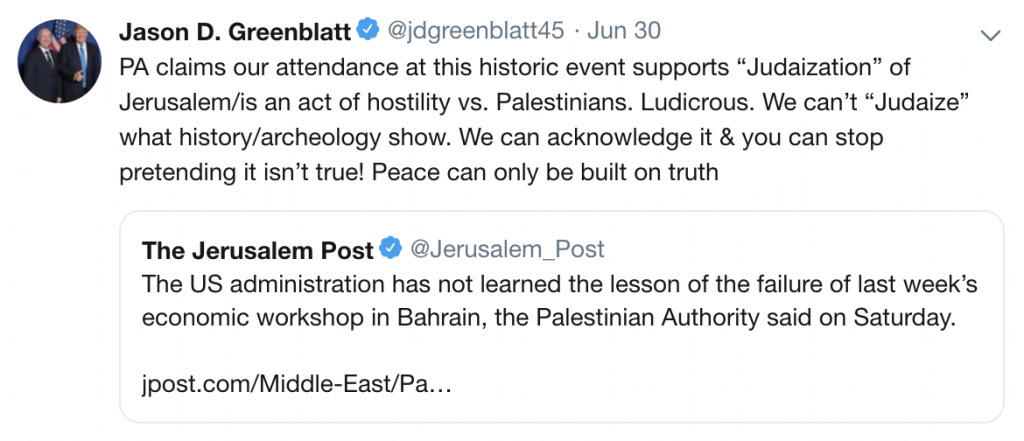 The Truth about Silwan and the City of David
The City of David is in the heart of the community of Silwan, noted by the anti-Israel activists as "East Jerusalem". What they ignore is that never in history was the city of Jerusalem divided ethnically, with Jews living in all areas of Jerusalem. That was stopped by the illegal Jordanian occupation of Judea, Samaria and Jerusalem, when they expelled the Jews from the eastern part of Jerusalem. This lasted for 19 years before Israel liberated all of Jerusalem from the Jordanians, with Jews once again returning to live on the Eastern side of the city.
These anti-Israel activists also ignore that the City of David, in the area of Silwan, proves that historically Jews were here 3,000 years ago! 1,600 years before Muhammad invented Islam, and when the ancestors of today's Muslims were still idol worshippers.
Finally, they ignore that just over 100 years ago the area of Silwan was a Jewish community inhabited by Yemenite Jews. Unfortunately, because of the horrendous Arab Muslim riots and pogroms against the Jews, the British expelled the Jews from the community claiming that they couldn't defend them. So the Arabs of Silwan today are squatters in a Jewish neighborhood from just 100 years ago. It would be nice if journalists would report these facts in their reporting. But instead they promote the lies of the Arab Muslims aimed at delegitimizing the Jewish right and claim to Jerusalem.