Security officials do not know why, but the Muslim terrorist from Hebron who murdered Ari Fuld last week specifically hunted an "English" speaker. New information about the terror attack has been revealed by Hila Peretz.  She was almost another victim of the terrorist herself. She was heroically saved by a stabbed Ari Fuld who managed to shoot the terrorist, before dying of his own stab wounds.
Disgraceful Reporting
The New York Times, and many other mainstream US media outlets did NOT report the murder.  US citizen and American born Ari Fuld z"l was killed last week by a terrorist from the village of Yatta. Not only was Ari an American, but a witness at the scene of the terrorist attack reported that the terrorist specifically targeted an American to stab. That should definitely make the mainstream American news, but it didn't.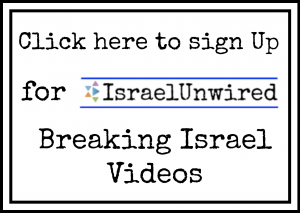 "English Speaker"
Peretz was working at her falafel store when the terrorist walked in to order a falafel. The terrorist asked her two separate times, during his falafel purchase, if she spoke English.
"I told him 'no,' and asked him what it was that he wanted."
"It was not as if he didn't speak Hebrew and had been asking to speak English so he could make his order. We carried out our conversation in Hebrew," she explained.
Watching the security footage, one sees clearly that the terrorist  watched Ari, and listened as Ari was on his phone. He even allowed people to pass by as he stood behind Ari Fuld, waiting. And then he finally stabs Ari Fuld in the back.
"There were other people in the area that he could have targeted first, but he chose Ari," Peretz said. "But them he didn't target, he must have wanted an American."
Yatta
Ari Fuld was murdered by a terrorist from the Arab village of Yatta near Hebron.  Two years ago, 13 year old Hallel Yaffa Ariel was also murdered by a teenager from Yatta. Ariel was sleeping in her bed in the Jewish community of Kiryat Arba.
Yatta is known to the Israeli security services as a hotbed of terrorists.
The time has come for Israel to deal with the terrorists of Yatta with an iron fist once and for all so that they no longer murder innocent Jews.