I recently attended the 3rd Sovereignty Youth Conference here in Israel run by the Sovereignty movement. This is the third year that Israeli youth from all over the country came together to further develop the diplomatic solution of Israeli sovereignty over the whole land of Israel.
This speech should be heard by everyone!
Jonathan Pollard was the guest speaker and he dealt with all the hot topic issues, saying what all of our politicians should be saying and acting upon.
 "For thousands of years there has been no question why we are here. The answer is: Because we received this land from G-d, not from the United States, not from the British, not from the United Nations, but from G-d. There is no need for us to explain our belief that this land is ours. No one will tell us where to live. The days of the ghetto are over. It will always be ours and no one will tell us where to live. We are a free Jewish people. The American President will not tell us where we are permitted to live and where we are prohibited to live."
 
In his talk, he mentioned the community of Evyatar and the intention to evacuate it. Pollard noted his personal feelings in light of the murder of Yehuda Gueta hy"d at the Tapuaḥ intersection. "We were there, Esther and I, for the dedication of a Torah scroll at Joseph's Tomb. What we saw there was not good," he said and related that he said to his wife that he does not have a good feeling in light of the security situation at the site. Indeed, several days later, Yehuda Gueta was murdered at the site. Apparently the Defense Minister has no problem destroying a Jewish settlement," he said.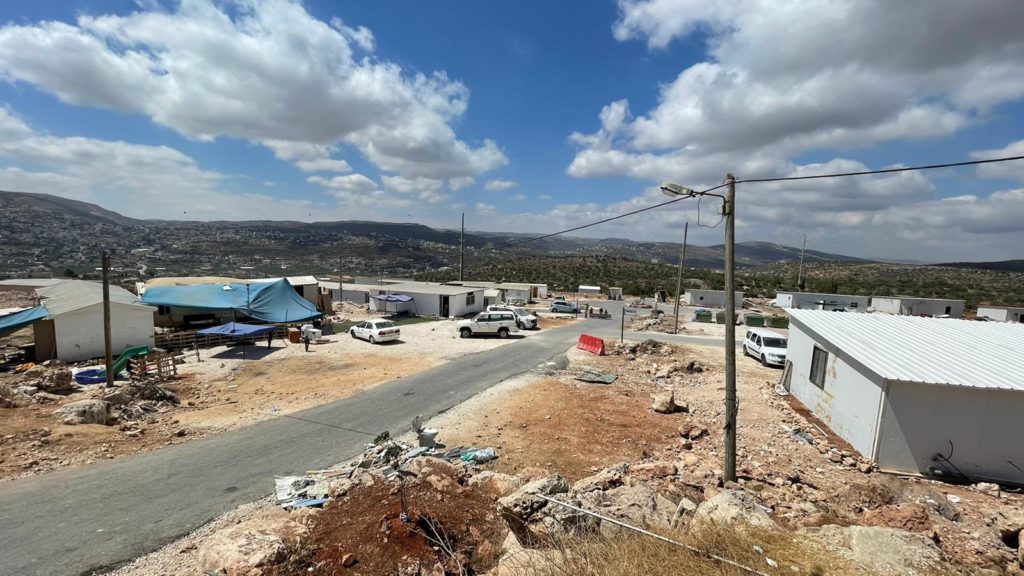 Pollard also raised the matter of the Dance of the Flags: "They do not want Jews marching to the Western Wall. Where will it end? Our security officials have no problem seeing Arabs with Palestinian flags on the Temple Mount. Think about it: the Temple Mount. And that is OK? They are in our capital with Hamas flags. We must change our mentality. We fear G-d alone, no one else."
 
Later in his address, Pollard asserted that while in the Six Day War, we restored sovereignty to the Jewish people with the connection to the heart of the nation, now, we are losing the city, step by step. In his talk, he expressed concern regarding the anticipated conduct of the new government and added: "Don't worry, G-d sees us and watches over us. He will also judge the people who will enter the new government. Don't worry."
 
"In the next government we have a new Prime Minister, Naftali Bennett. I am certain that it is a surprise for him as well as for those who voted for him. He must take action to defend our honor in the future," Pollard said, and called to protest and demand from the government ministers to restore to our hands the four communities that were uprooted in northern Samaria. He also called for construction in all the territories of Area C as a step that we can demand from the new government, as well. "We must be conscious of the need to expand Jerusalem, because we are not concerned only with Jerusalem flourishing. Our objective is to ensure a Jewish majority and to prevent the isolation of the city. The objective of the Biden Administration is to isolate Jerusalem. Do not let their calming statements convince you. They are not our friends."
 
He also addressed the riots in the mixed cities and asserted that it was a test administered by the enemy in order to ascertain the nature of the Israeli reaction. We failed that test miserably. "We are focused now on Jerusalem. There are still parts of Jerusalem for which we still must battle, Shimon HaTzadik, Kfar HaTeimanim, the tombs of the Kings, and more."
 
"When I visited Kfar HaTeimanim, I was incredulous. A Jew should not be in fear when he walks in the Land, from Metulla to Eilat. It is the others that should be afraid. They stole our city and our past, and they seek to steal our future as well, G-d forbid. We must not suffice with winning the battle, but rather we must decisively win the war over Jerusalem and Judea and Samaria."
 
"I am ashamed to say that the present government enabled, for twelve years, the illegal construction in Area C, but made any Jewish attempt to close a porch virtually impossible." Pollard said, and added: "I suppose that my words constitute a threat to democracy, and I am considered 'not right in the head.' That is what is not right…"
 
Pollard addressed the conference participants and said: "You, young men and women, are part of this struggle. I hope that in the not too distant future, you will consider the situation and know that we have been delivered from this situation through faith and for the glory of G-d and the Jewish people."