The Jerusalem based Institute for Monitoring Peace and Cultural Tolerance in School Education (IMPACT-se), brings to light the widespread radicalization rampant within the Palestinian Authority education system.
Thanks to the very important work of IMPACT-se, the Norwegian Parliament last week announced an unprecedented decision to cut funding for the education system of the Palestinian Authority. Much Norwegian, and European Union money is used to fund the Palestinian Authority textbooks and education system. When they saw that the textbooks, that they fund, incite children to violence, terrorism, and martyrdom using school curricula they decided to halt the funding.
We applaud Norway for this decision. People and organizations have been presenting this information to EU countries for years, yet Norway is the first country to finally decide to halt funding.
Norwegian lawmakers sharply criticized the violent and inciteful material found within the textbooks.
"Examples of content found in Palestinian school books include references to violence, martyrdom and terror," read the statement. "The coalition considers this to be devastating to the peace process and the development of democracy in the region, as well as being an expression of irresponsible pedagogy, and finds it unacceptable that Norwegian funds support a school system that promotes such destructive values."
"We can no longer sit still and watch Norwegian money contribute to a teaching system that encourages children to violence and promotes racism and antisemitism," said Hans Andreas Limi, parliamentary leader of the libertarian Progress Party.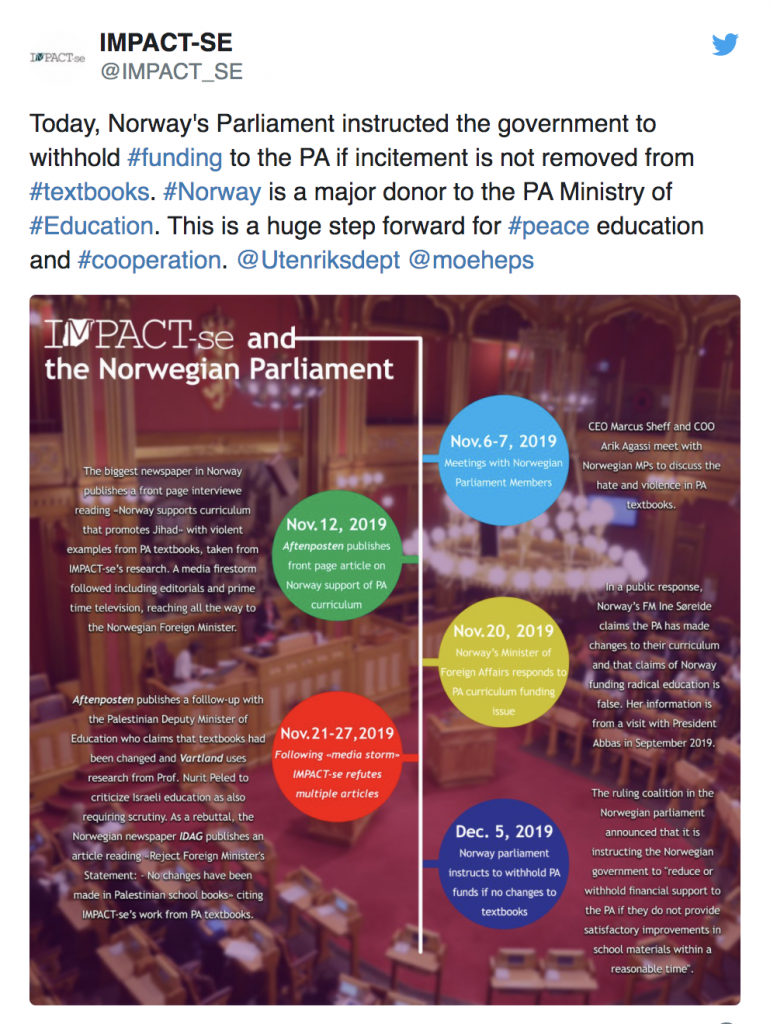 Education = Values
Society's education reflects its values. When will "enlightened" Westerners, who preach morality in Europe and the USA, realize that a people that use textbooks to prepare little children to be murderers is not a society interested in peace?
This is the crazy reality the Jewish state of Israel has to live with. While our hands are always outstretched in peace, the world always blames us for the situation and forces us to appease, and give away our land and communities, to the palestinian arab society that educates its children to be murderers and destroy Israel.