Israelis know that the Iranian People are not the enemy, the regime is. So sad that the Democrats ignore that.
After Iranians found out that Iran was responsible for shooting a commercial airliner out of the sky murdering hundreds of innocent civilians, Iranians have had enough. Masses of Iranians are now protesting across the country with massive calls against the horrendous Islamic rulers of Iran.
In the following video people at Amirkabir University in Tehran are being beaten and tear-gassed. Their chants are against the state's incompetence and cruelty. They want this cruelty to end.
Woah! Now they're chanting for the Supreme Leader to go: "Commander-in-chief, resign, resign".
Iran's regime faces huge public outcry after IRGC admits it caused #UkrainePlaneCrash.
MEK sources say students at #IranProtests in Amirkabir Uni are also chanting Death to the Dictator pic.twitter.com/jOJeQg8tZM

— M. Hanif Jazayeri (@HanifJazayeri) January 11, 2020
The Abhorrent Derelict Work of Western Media
Iranian (no clue where he lives today) Tweeted: "Thank you western media for being in Iran and covering Qasem Soleimani's funeral, now can you please cover the protests that are happening in Tehran? No? Oh sorry, I thought you were journalists not birds that Parrot the Islamic Republic and Javad Zarif."

Democrat Politicians Responds
Where are Linda Sarsour, Ilhan Omar, the Women's March and all the self-proclaimed Western feminists, standing up for the brave women to have their freedom? And not be forced to wear hijabs? And not be shot in the streets? Total silence!
Instead, these are representative "reactions" from Democrats: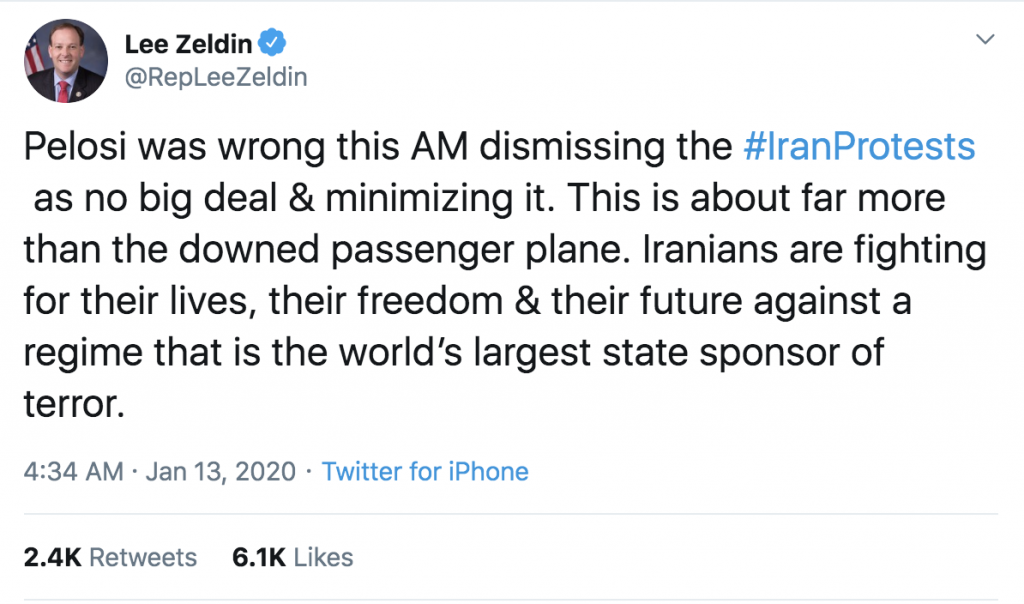 Iran launched missiles at a passenger jet.

Iran killed 176 innocent civilians.

Iran is to blame.

Iran should be condemned, not @realDonaldTrump.

It's that simple.https://t.co/KUaN3cYC3q

— Ted Budd (@RepTedBudd) January 10, 2020
When the bullets start flying and the bombs start dropping, terrible things can happen that no one has planned for. This is one of the great tragedies of war. Unintended consequences and so-called "collateral damage." #NoWarWithIran #StandWithTulsi pic.twitter.com/auD5iuzaSA

— Tulsi Gabbard 🌺 (@TulsiGabbard) January 12, 2020
Israelis Truly Want Iranians to be Free

President Trump Cares for the Iranian People