The annual memorial for the 67 Jewish victims of the 1929 Hebron massacre was held at the ancient cemetery in Hebron on Monday.
Students and staff of the Hebron Yeshiva, which since 1929 has been located in Jerusalem, recited kaddish at the graves of those murdered.
Rabbi Yitzhak Bar Haim, an alumni of the Hebron yeshiva, led the prayers along with family members and yeshiva students. He commented that among the 24 students killed in the massacre were several American and Canadian immigrants.
Rabbi Bar Haim is a co-founder of Nahal Haredi which helps support ultra-Orthodox Israelis in the Israel Defense Forces.
On August 24, 1929 / 18th of Av 5689, mobs attacked the Jewish community and committed atrocities and murders, ransacking homes, businesses and synagogues. Unarmed men, women and children, Ashkenazic and Sephardic, young and old were attacked and killed. The British then rounded up the Jewish survivors and deported them.
The prominent Slabodka yeshiva, which had relocated from Lithuania in the 1920s and pumped new energy and economy into the sleepy town of Hebron, raised the standard of living for all residents. After the massacre and deportation, Slabodka relocated to Jerusalem where it became known as the Hebron Yeshiva and is considered one of the largest and most high-level religious educational centers in the country.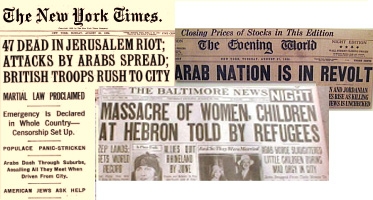 The summer of 1929 was one of unrest in Palestine as Jewish immigrants were arriving in increasing numbers and the agitations of the mufti in Jerusalem spurred on Jewish-Arab tensions. Just one day prior to the start of the Hebron massacre, three Jews and three Arabs were killed in Jerusalem when fighting broke out after a Muslim prayer service on the Temple Mount. Arabs spread false rumors and libels throughout their communities, saying that Jews were carrying out "wholesale killings of Arabs."
Hebron had up until this time been outwardly peaceful, although tensions hid below the surface. The Sephardi Jewish community (Jews who were originally from Spain, North Africa and Arab countries) in Hebron had lived quietly with its Arab neighbors for centuries. These Sephardi Jews spoke Arabic and had a cultural connection with the Arabs of Hebron.