I went to the Western wall of the Temple Mount tonight to say one final prayer of thanks to the one above for President Trump and asking him to continue as President for four more years.
For four years President Trump has been attacked, vilified, slammed, delegitimized, smeared etc.
All that time, the President has spent every moment of his Presidency looking out for regular Americans, and the freedom-loving world.
Why has he been attacked? Because he is an obstacle to globalists sending American jobs abroad, an obstacle to career politicians and the DC bureaucracy, an obstacle to the "peace" industry worth millions, an obstacle to so many pockets of money and power in America…
He is seriously a President looking out for hard-working Americans, all hard-working Americans. That is why he has energized so many hard-core Americans to vote for him, hits, black, Hispanic etc.
Hence, all the "powers that be" have been using every tool they have to stop him, including all the corporate-owned mainstream media and hi-tech companies.
They know that four more years of him will be crippling for their own agendas, to the detriment of the American people.
In addition to all this, he has been the best President EVER to the Jewish people and the State of Israel.
What do I predict will happen? He will win in the electoral college with a big majority, yet the Democrats, media and hi-tech companies will use every trick in the book to try to delegitimization the outcome.
Why else have they already been putting out messages to discredit a Trump win. Zuckerberg's saying that Facebook won't allow any posts of winning the election until its conclusive.
The mainstream media already predicting a "red mirage" Trump win on Election Day that won't really be a win.
The Attorney General of PA saying that "Trump is going to lose" after all votes are counted. Do they all know something we don't? Exactly!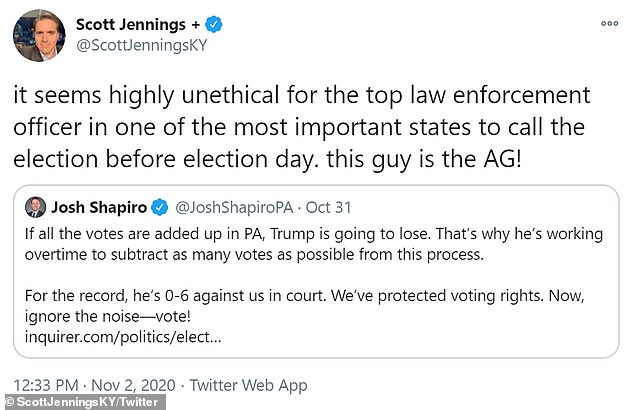 Everyone pray! For a clear victory and for a peaceful aftermath. Because right now it looks like it is going to be ugly. I hope I'm wrong. But why else are storekeepers in Major US cities boarding up their stores?
Pray! And vote!!!